From Porto's hillside cityscape of spiking church towers and pastel-hued homes to dramatic inland vistas of vineyards twirling around mountaintops, a slow cruise along the Douro River Valley is like a lesson in Portuguese history, tradition and cuisine.
It's a lesson I experienced every day onboard Scenic Luxury Cruises' 263-foot Azure, with cooking demonstrations, fine dining featuring regional specialties and sips of the area's red wines and reserve and tawny ports. Shore excursions whisked us to old churches and monasteries, museums and vineyards in the oldest wine region in the world — so old, in fact, that it's a Unesco World Heritage Site, with wine produced here since Roman times.
Scenic resumed its 11-day Unforgettable Douro cruises on July 30, departing from Porto's bustling Cais da Ribeira riverfront to Vega de Terron on the Spanish border, a 310-mile, roundtrip journey passing through five locks, as the Azure and other Douro cruise ships are built specifically to maneuver the narrow locks.
Scenic used the pandemic-forced downtime for maintenance, replacing the Azure's carpeting and improving air conditioning, galleys and bathrooms. Ship highlights include the sun deck's shaded lounge space and a small pool. Most of the 48 cabins are comfortable, 215-square-foot balcony suites; space nearly doubles in the two one-bedroom suites. Butlers add to the above-and-beyond luxury service.
Cultural immersion gripped us from Day 1 with an onboard fado performance. "I feel it in my skin: emotions, pain, love, joy," said singer Claudia Madur, regarding Portugal's melancholic music genre.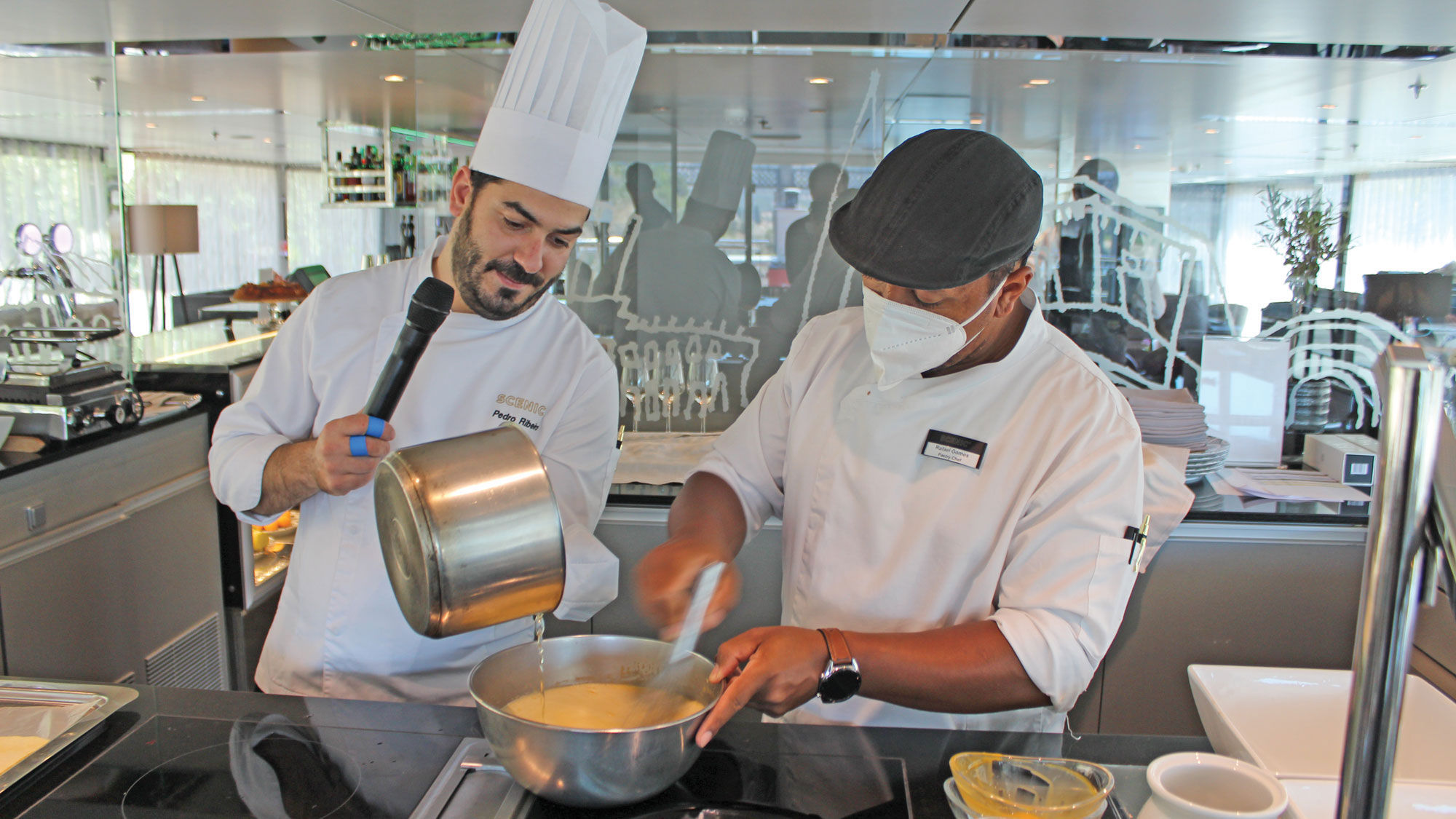 Portuguese specialties and wines on an 11-day sailing provide an in-depth taste of the region.
At Peso da Regua, we explored winemaking in the Douro Museum, learning how mountains blocking Atlantic Ocean weather create a microclimate for more than 110 grape varieties. I discovered workers still crush grapes with their feet and that adding brandy is the secret to a good port wine. "The wine is sweet because brandy stops fermentation," museum guide Marco Barradas explained.
At Pinhao, we sampled local port and traditional bola meat bread in the plateau-top village of Provesende, where ripening grape clusters hang from vines just days before harvest. Other excursions offer kayaking and an exciting full day exploring Salamanca's dual cathedrals and university, as the Spanish city is less than two hours from Vega de Terron.
Arriving back in Porto, classical musicians performed just for us in the 15th-century Sao Francisco church, its nave studded with baroque gold carvings.
I sailed in mid-August on the Azure's second cruise of the season with about 40 other passengers, less than half of the ship's 96-guest capacity. Passengers must show proof of Covid-19 vaccinations and a negative PCR or antigen test. Masks are required, and crew members take guests' temperatures after shore excursions.
"We have to show our guests that we are doing all that is possible for safe sailings," said Maria Andrada, general manager for Scenic's and sister company Emerald Cruises' Portugal operations. She predicted ships will sail at 50% to 60% capacity through November, reaching full occupancy next year. "We're very pleased," she said. 
Source: Read Full Article