"We have seen a 25% to 30% increase in celebrations at the Peninsula Beverly Hills suites that we have actively been involved in planning."
"Fairmont Scottsdale Princess has seen a 36% increase in leisure guests celebrating milestone moments."
"We've seen a 150% increase in bookings across all types of celebrations at Shangri-La, the Shard [London] since summer 2019. We've also seen a particular rise in the number of proposals booked with us, with a 232% rise compared to 2019, followed by birthdays, our most popular celebration, which have risen by 146%."
Following a year of lockdowns, reduced capacity and a general sense of restriction, luxury hotels are seeing an explosion in celebrations. Some are occasions that were delayed owing to the inability for people to gather during the pandemic, others seem to be celebrating the fact that celebrations are even possible.
A survey by the Affluent Consumer Research Co., commissioned by Strategic Vision for Travel Weekly, indicates that 88% of consumers with household income of $250,000-plus who said they stay in luxury hotels are also interested in holding celebrations there. And of those, 52% say they're interested in spending more than they typically would on a celebration.
"There is a definite sense that, having been through lockdown, guests want to make up for lost time and celebrate with a big party," said Mike Bonner, director of sales and marketing for Rosewood London. He estimated that there is an "uplift in spend" of 20%. "We are seeing more elaborate celebrations: more flowers, food and beverage and entertainment."
On the other side of the globe, Christian Westbeld, managing director of the Raffles Singapore, has had to contend with capacity restrictions. But that may account in part for the "dramatic uptrend" — 30% to 50% — in average spend per person at celebrations that the hotel is seeing.
Westbeld cited a marriage proposal in which the presidential suite was decorated with 9,999 roses "symbolizing everlasting love, in a bid to ensure that the happy couple can share the joy with friends and families on social media."
That sort of sharing, it turns out, not only bestows bragging rights to the couple but benefits the hotel, as well. The Affluent Consumer Research survey indicated that when an affluent consumer is aware of someone else celebrating at a luxury hotel, there's an 81% likelihood of them wanting to do the same.
The Peninsula Beverly Hills is also seeing the benefit of social-sharing guests, but combined with a trend toward smaller — but no less expensive — events.
"In lieu of grand, large parties, more people are opting for equally extravagant intimate celebrations," said Christina Vu, director of digital and brand marketing for the property. "We've had couples see firsthand, via our social channels, how our team can execute a smaller-scale celebration without sacrificing grandeur."
Rather than linking the smaller celebrations to restrictions, Vu attributes the trend to "clientele adopting a quality-over-quantity mindset. With large parties, we've historically encountered couples who focus on maintaining a lower cost per guest. Now, individuals are excited to offer an over-the-top experience for their nearest and dearest by spending significantly more per person. Even with a lower number of guests, couples' budgets seem to be similar to what we've seen in the past."
"Lockdowns must have brought a lot of couples much closer, as we have never seen as many wedding proposal requests as we have in 2021," said Calum Donoghue, director of public relations for the Dorchester in London.
Indeed, to keep up with multiple staged proposals each week, London's Shangri-La, the Shard has partnered with a company called the Proposers. "We can transform a room or suite with candlelight, white balloons and 'marry me' signs. Or elegantly decorate our Yi private dining room for a 'Dining in the Sky' experience with flowers and personal touches like pictures of the couple, all while dinner is served along floor-to-ceiling views over London," said general manager Kurt Macher.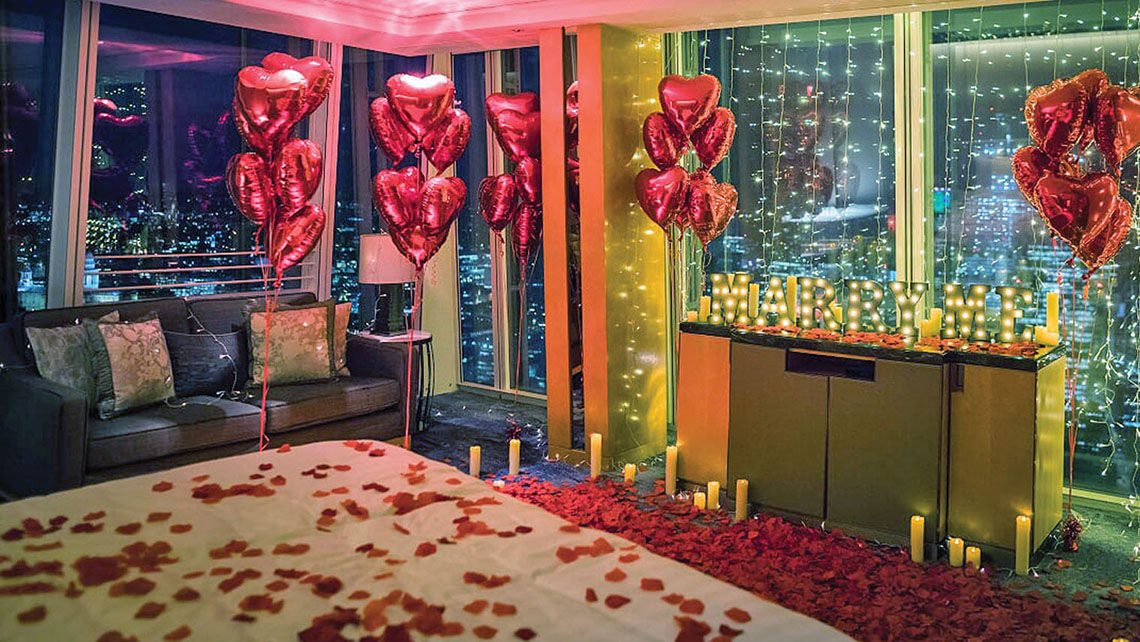 Other guests may want more than balloons, flowers and candlelight. Much more. At the Mandarin Oriental Hyde Park in London, the hotel arranged for a member of the band Girls Aloud to sing the favorite song of a couple from the Middle East as the man popped the question.
While luxury hotels might be expected to handle over-the-top celebrations, even airport hotels are getting into the act. The Denver Airport Marriott at Gateway Park is offering a two-night package in a suite that includes chauffeured car service, a nine-course dinner for two, a bottle of Armand de Brignac Ace of Spades brut gold Champagne, a Roaring '20s casino night-themed event for 20 guests, art deco jewelry, a custom suit with art deco cuff links and a $2,000 donation to the charity of guests' choice. The price begins at $20,000.
Many of these extravaganzas come together in relatively short order. At Le Royal Monceau, Raffles Paris, the hotel recently welcomed a group of friends arriving from all over the world to celebrate the birthday of a Russian fashion model, booking more than 180 room nights less than 10 days in advance.
A recent wedding was contracted and planned at the Fairmont Sonoma Mission Inn & Spa within just one month. The couple had booked elsewhere but was concerned about staffing shortages at the other property. The event brought in $18,000 in room revenue and $80,000 in on-site food and beverage, according to Hadley Sullivan, a senior manager of public relations and communications for Accor.
And within a two-week time frame, London's Savoy put together a circus-themed wedding with 100 U.S. guests totaling 445 room nights across a three-week period, said Virginia Webb, director of marketing communications.
While the research on hotel celebrations polled only affluent guests, travel advisors shouldn't limit offers for a luxury celebration solely to wealthy clients. 
"The majority — 90% — of guests who stay to celebrate at our hotel are those who saved up for the occasion," said Amanda Hyndman, area vice president of operations and group director of quality and rooms for the Mandarin Oriental Hyde Park. "They were first-time stays." 
Source: Read Full Article