New York City's official destination marketing organization has changed its name to New York City Tourism + Conventions, dropping the NYC & Company name it's held since 1999.  
The new name is part of a brand overhaul that includes a new brand strategy, logo and overall art direction that Fred Dixon, CEO of New York City Tourism + Conventions, said "makes clear our purpose and mission."
The rebrand includes a new website launching in May (nyctourism.com) and new social media handles, @nyctourism and @nyctourismnews, that will launch across Twitter, Instagram, Facebook and LinkedIn. 
Nancy Mammana, chief marketing officer of New York City Tourism + Conventions, said that the organization has been working on the rebrand for more than a year, with the desire to be "more clear about who we are and lean into our role as a tourism bureau and reassert the importance of what we do. 
"I think coming out of pandemic we felt that very particularly," she said. "This is an evergreen brand solution, but it's very right for this moment in time because now, more than ever, our role as a tourism bureau to support the economic prosperity of the city is just even more important."
Enlisting New Yorkers in 'what's good' campaign
The debut of the new name and logo was launched in conjunction with a social campaign, #WHATSGOODNYC, harnessing what it calls the "opinion power" of New Yorkers, who share their points of view on "what's good" and what to experience across the city's five boroughs, and is meant to tap into travelers' desire for authentic experiences. The campaign offers insights, tips, recommended activities and excursions through various channels.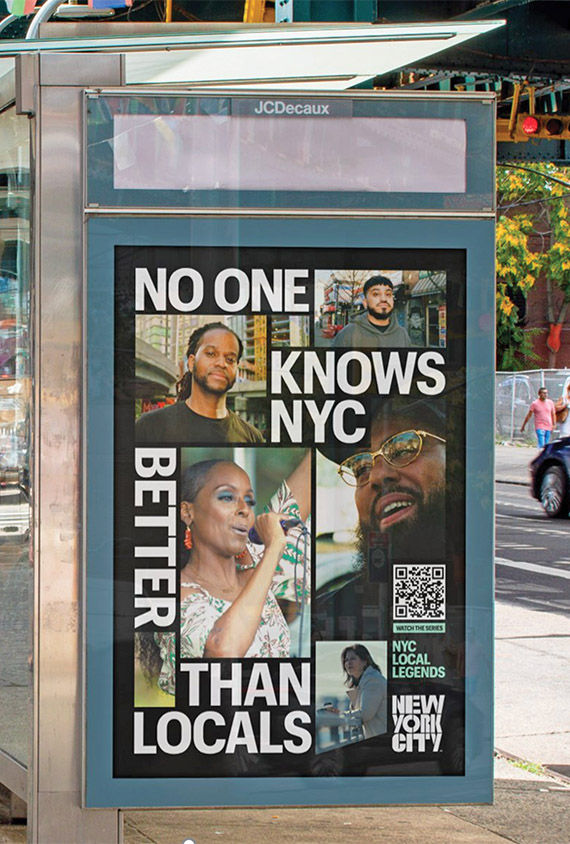 The logo was inspired by the graphic heritage of the city, Mammana said, and artists and designers who were influenced by the city such as Saul Bass and Florence Knoll. The irregular shapes and intersections of the graphic elements reference the city's street grid and building shapes, and every color in the palette is associated with New York City: Statue of Liberty green, taxi yellow, ferry orange, lox pink and brownstone. 
Mammana said that an extensive survey showed that the NYC & Company name was confusing to people. 
"The overarching takeaway … was really the lack of clarity. The name doesn't necessarily convey who we are, what we do," she said.  "We always have to explain ourselves."
The new name, she said, "is not a mystery or very exotic, but we wanted it that way. We wanted it to be extremely clear and begin to really lean into who we are. And that will be what you'll see throughout our consumer channels." 
New York City mayor Eric Adams said in a statement that with more than 56 million visitors to the five boroughs last year, "New York City is not coming back, it is back. 
"New York City Tourism + Conventions' new branding reflects our city's energy and spirit and will make sure everyone knows that there's never been a better time to visit the greatest city in the world," he said.
Source: Read Full Article