In the age of the Mardi Gras, with its 5,282 passengers, roller coaster and fancy suites, you might think Carnival Cruise Line's older ships would pale by comparison. After all, the line recently sold off four of its oldest and smallest Fantasy-class ships.
Yet after a week onboard the Carnival Pride, I can attest the nearly 20-year-old vessel is still bringing the Fun with a capital F.
Much of the Pride's appeal can be attributed to how Carnival has created a branded experience across its various ship sizes. To me, the quintessential Carnival experience includes plentiful eats, live music everywhere and a fun-loving vibe that extends from top-deck attractions to Fun Squad-led activities. From that standpoint, the Carnival Pride isn't missing a thing.
The Lido Deck is bursting with no-charge dining options: Guy Fieri's burgers; pizza; burritos and tacos; a deli counter; and the buffet. Add in the extensive sea day brunch in the main dining room, and I could eat lunch at a different venue nearly every day of my weeklong cruise without once swiping my cruise card. Fieri's barbecue and Shaq's chicken would have been welcomed, but their absence was not noticeable.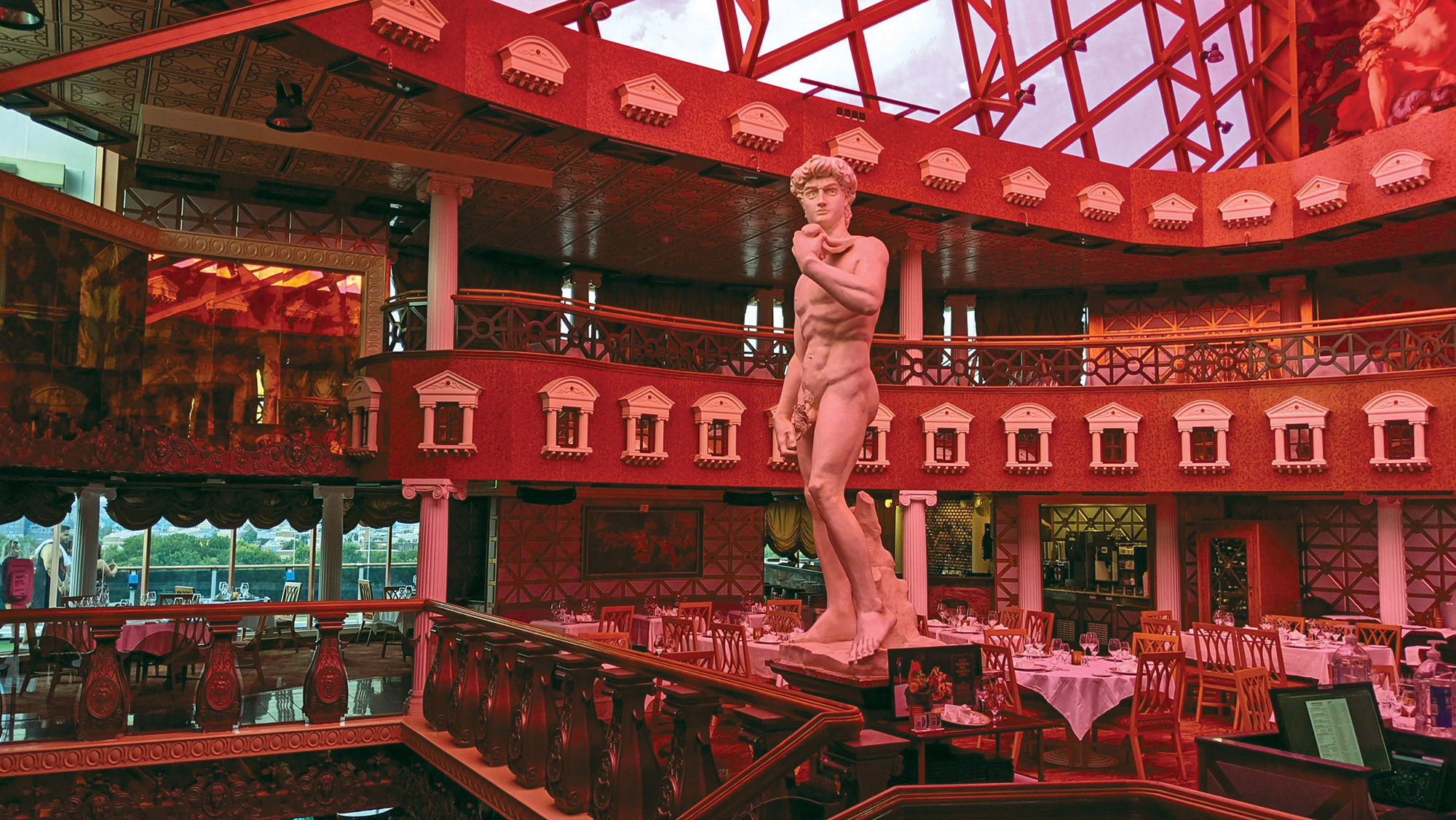 At dinner, however, I did find the options lacking and would have welcomed the expanded restaurant selection of a newer ship. The Lido Marketplace and the main Normandie Restaurant, the two included venues, served the same entrees. David's Steakhouse delivers a delectable date night experience at a reasonable price, but most cruisers don't go twice, and Bonsai Sushi was empty every time I passed by. I would have happily paid to mix things up with an Italian meal at Cucina del Capitano or Asian fare at Chibang or Ji Ji Asian Kitchen.
The live music I remember from previous cruises was in full force on the Carnival Pride, despite the pandemic. The stage by the Atrium Bar was rarely without music, and a violin trio added to the soothing impact of my cocktail prescription at the Alchemy Bar. The singalong crowd was split between the piano bar, always a hit on Carnival ships, and the Red Frog Pub; I cast my vote with the amazing house band at the pub.
The top-deck attractions are varied enough for the Carnival Pride's 2,124 guests, with three Lido Deck pools, two waterslides and a kiddie splash area, a sports court and minigolf. The space is dedicated to Carnival cruisers' favorite pastime — chilling on a lounge chair, drink in hand — and not to gimmicky rides that most people will only try once. Bingo and trivia satisfied this crowd's need for adrenaline.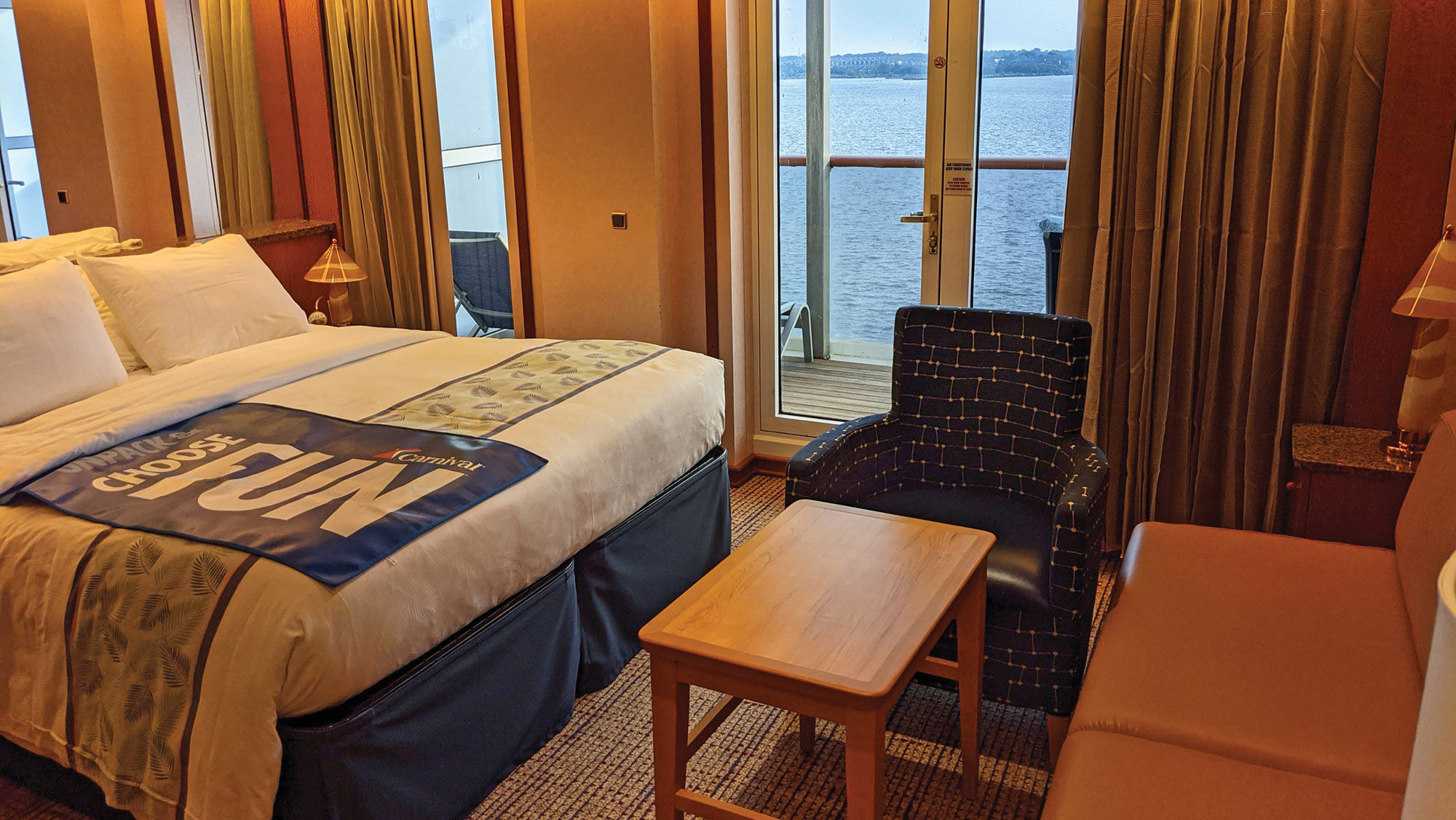 A democratic experience
Cabins are one area where the older ships fall short. I sailed in an Ocean Suite that was spacious but had Carnival's outdated, burnt-coral color scheme, badly scuffed wood furnishings and two sets of closet doors that did not close properly. Older ships like the Pride don't offer the same variety of cabin types, and cruisers looking for spa cabins or dedicated family cabins won't find them here.
The lack of cabin variety and exclusive-access areas makes the ship feel more democratic, which is a plus or minus depending on how much you've spent to come aboard. Travelers who pay more for the top suites get minimal perks (such as two bottles of water and priority debarkation) and no private lounges or sun decks. Cruisers in standard cabins, on the other hand, can enjoy the entire ship and never feel like a second-class citizen for booking an inside room.
I'd be remiss if I didn't mention the Renaissance-inspired decor in public areas. The look is not modern, it's rather frenetic, and there are larger-than-life half-naked men, women, cherubs and centaurs painted across the atrium and cabin hallways. Decor doesn't make or break a vacation, but the Pride's look may not create the best first impression for those with more stylish tastes.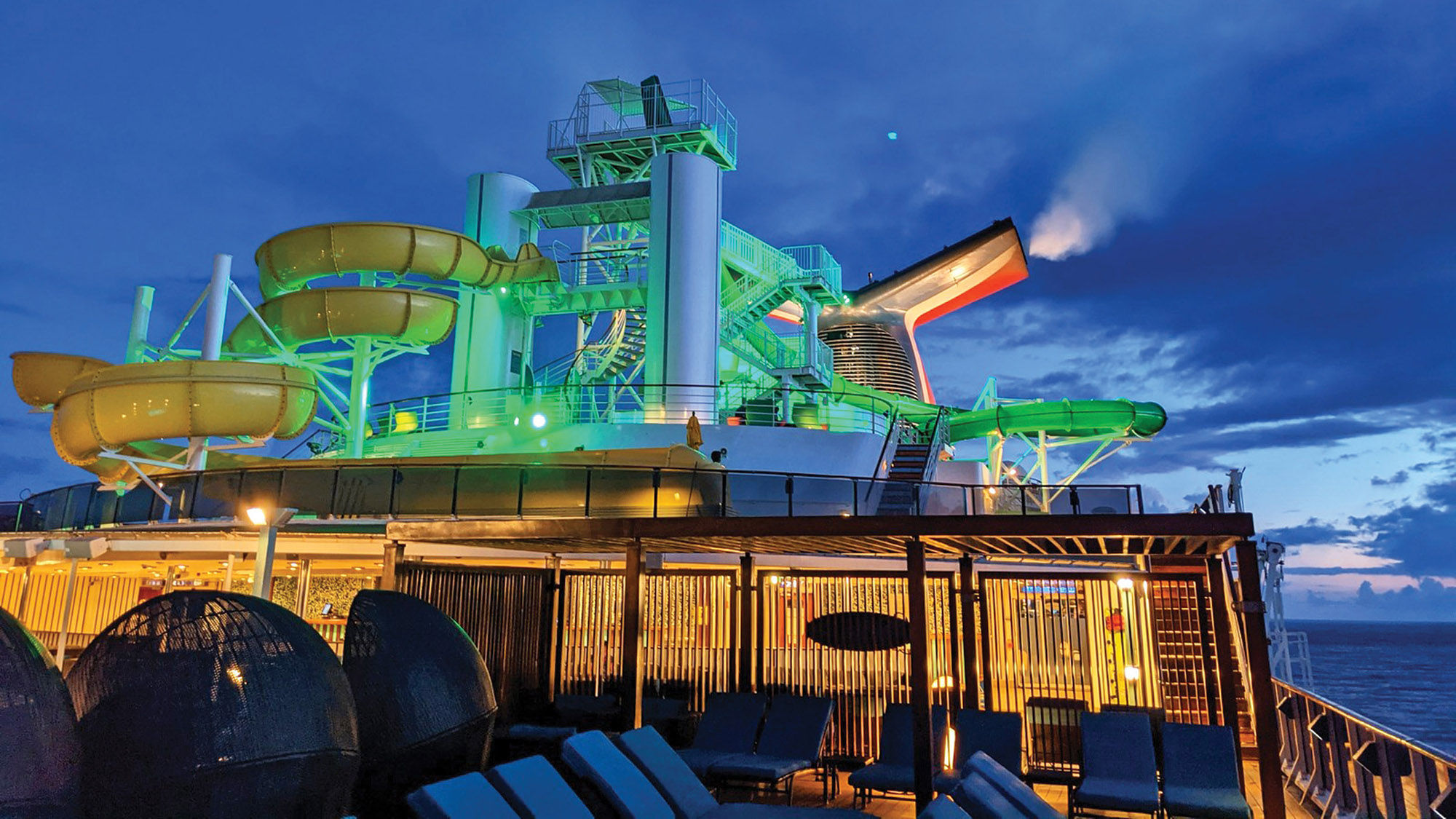 I asked the ship's hotel director, Mark Damme, whether guests seemed dissatisfied on an older ship, and his answer was a resounding no. New cruisers, he said, focus on the ports of call and are pleasantly surprised by the ship. They don't realize they might be missing something compared with the line's newer ships.
Carnival loyalists have likely sailed on the bigger and newer ships, but that doesn't stop them from coming back to the Pride. In fact, experienced cruisers tell Damme that they like the smaller ships better because there are fewer crowds and the onboard venues are more roomy. A new ship, with its multitude of offerings, can feel overwhelming. Guests who don't want the fuss and the hype come running back to their favorite old ships, like the Pride.
Plus, Carnival needs the smaller ships, said Damme, if the cruise line wants to continue to offer sailings from a variety of U.S. homeports. Ships embarking from ports like Baltimore, Tampa and Jacksonville, Fla., must navigate under bridges that can't accommodate large ships. For Carnival to remain "America's Cruise Line," it can't scrap all its old vessels. Luckily, the line's fans, as well as first-time cruisers, are still loving the smaller ships. 
Source: Read Full Article