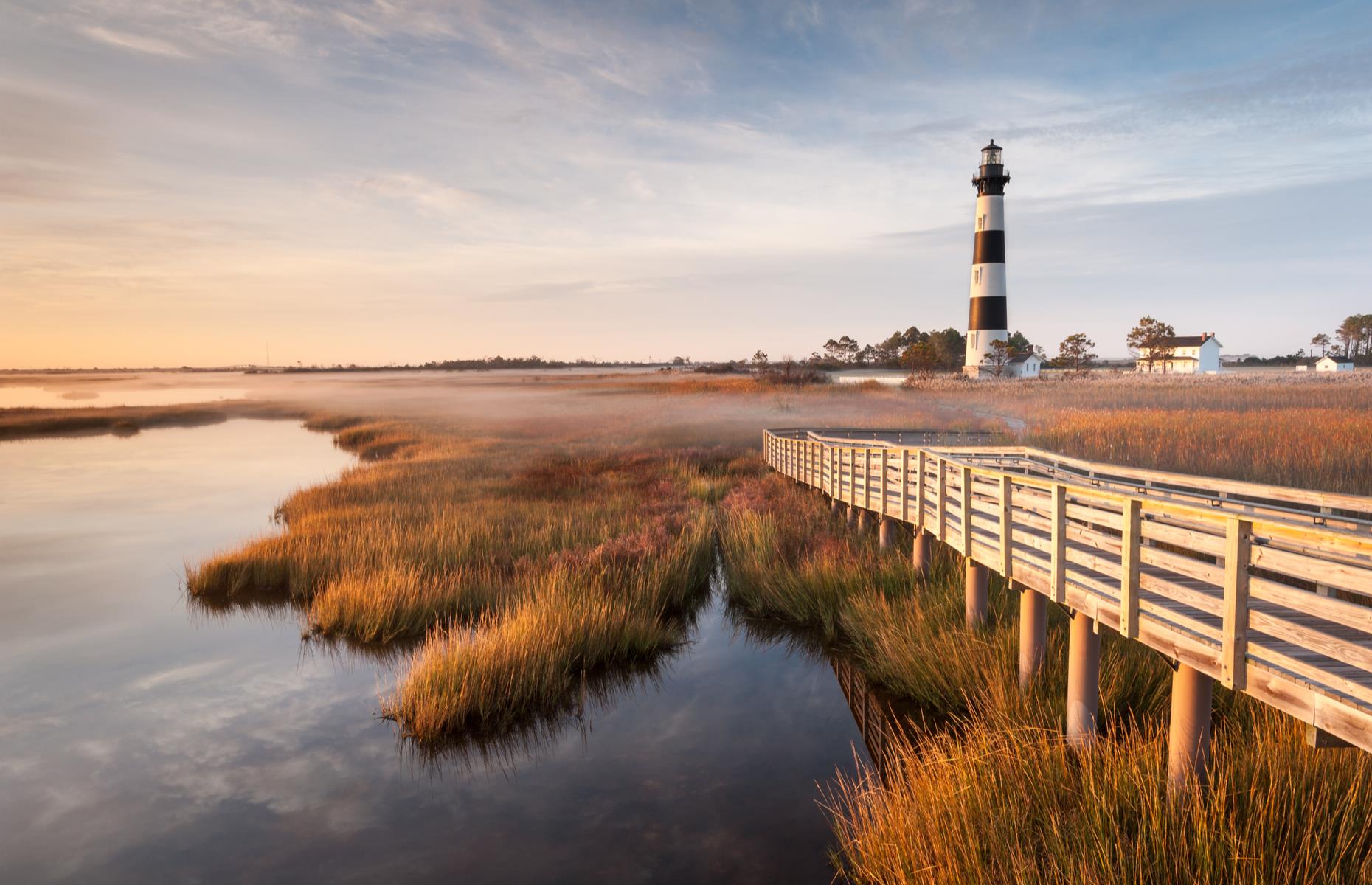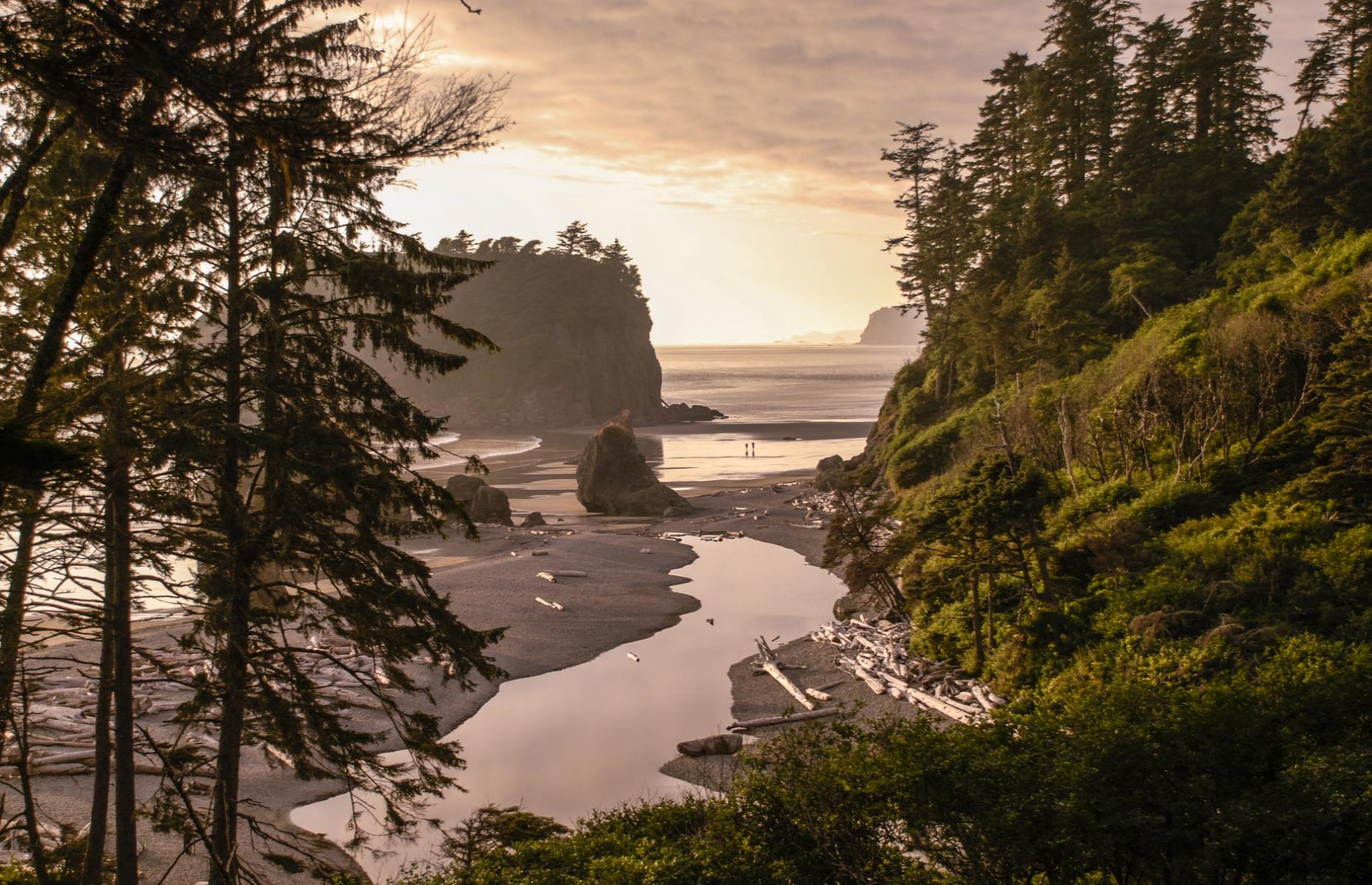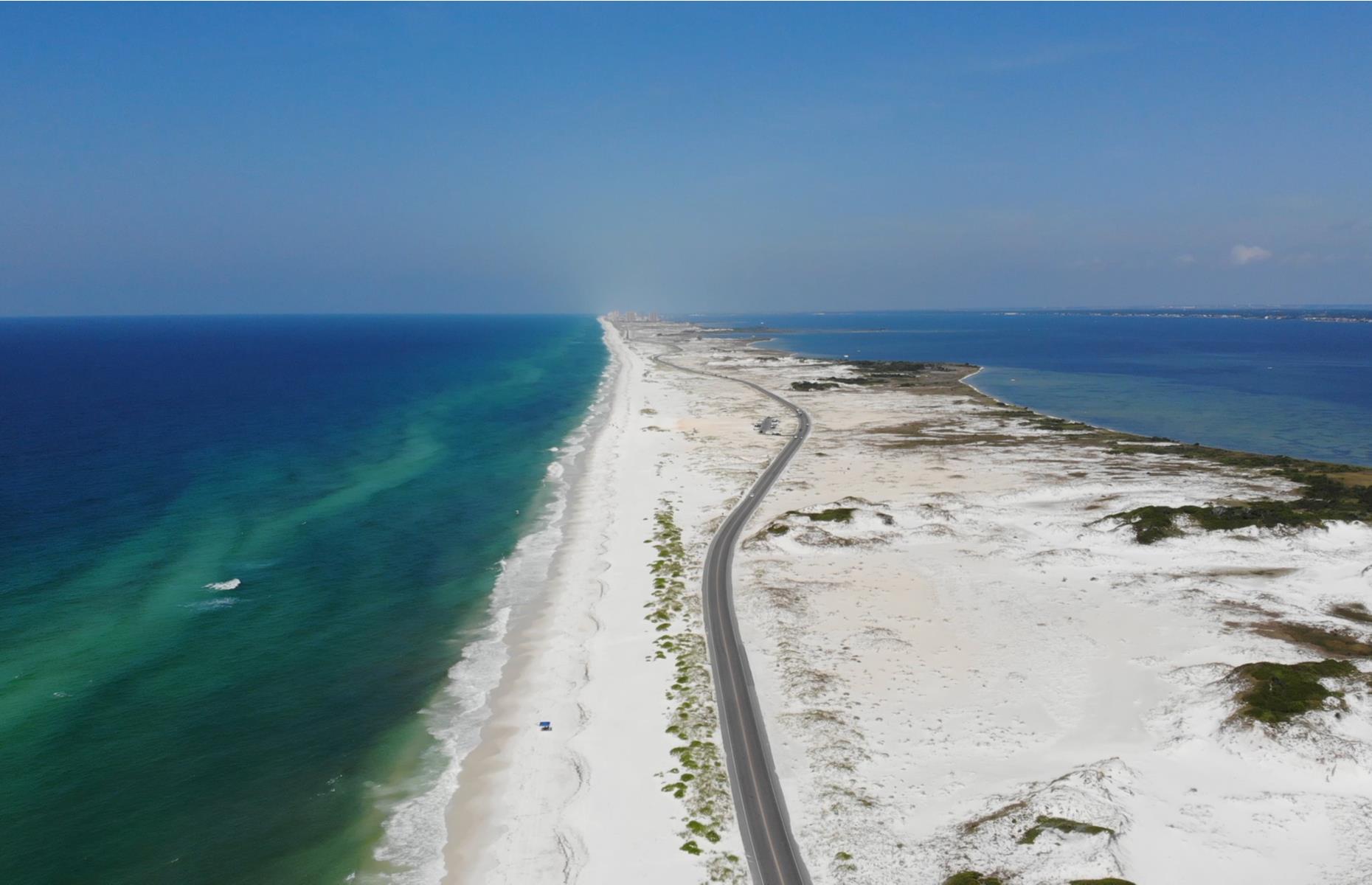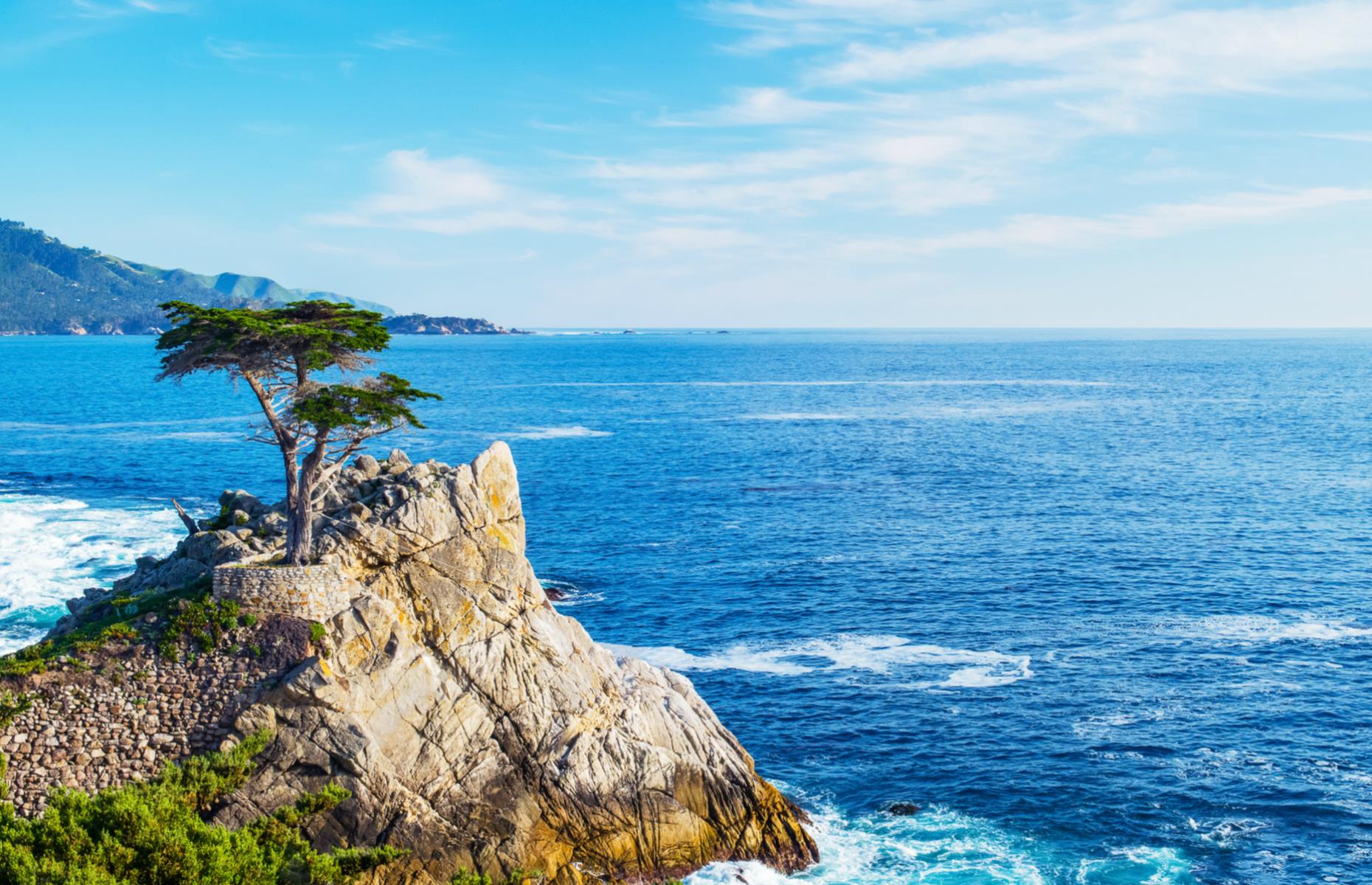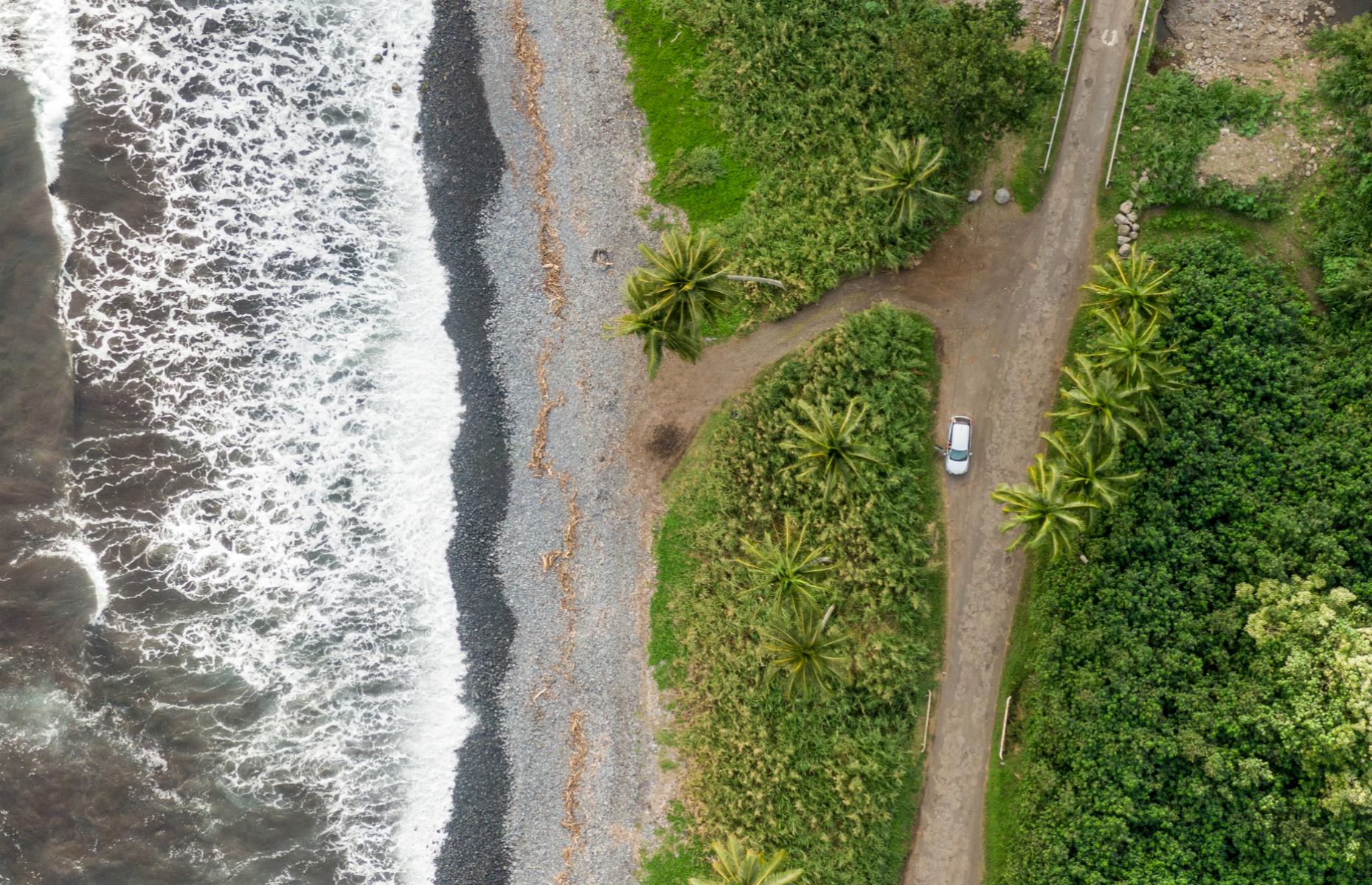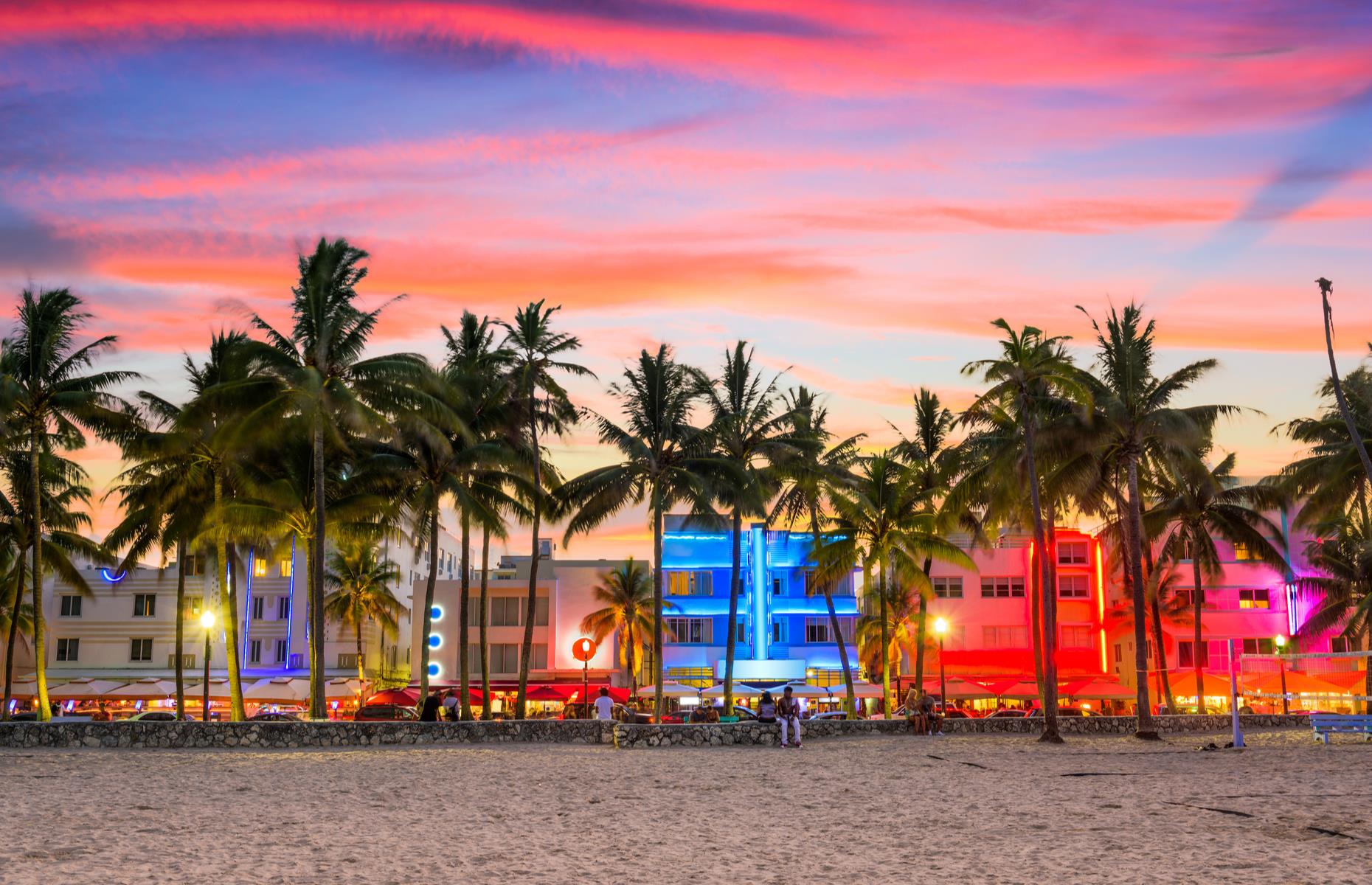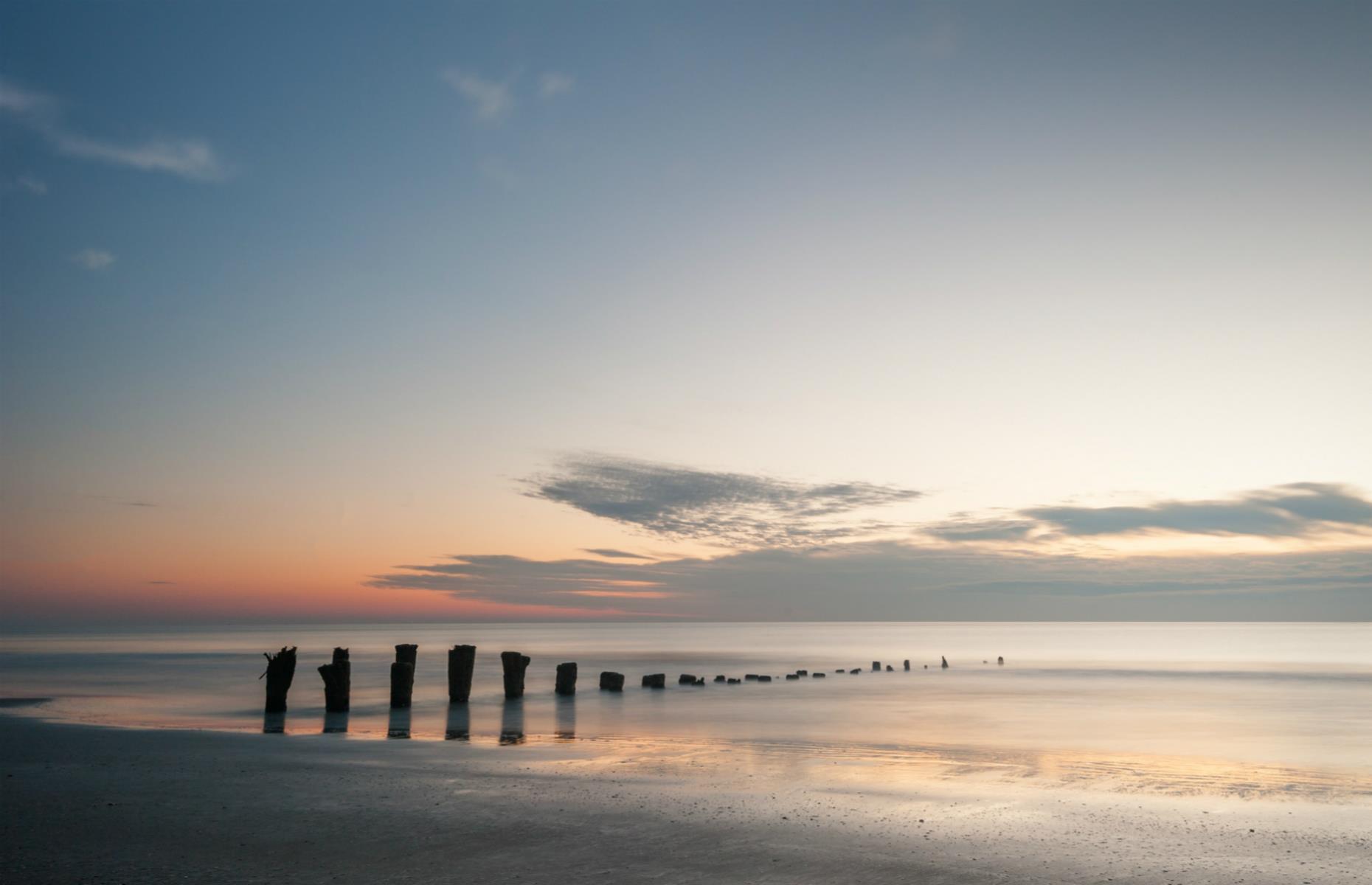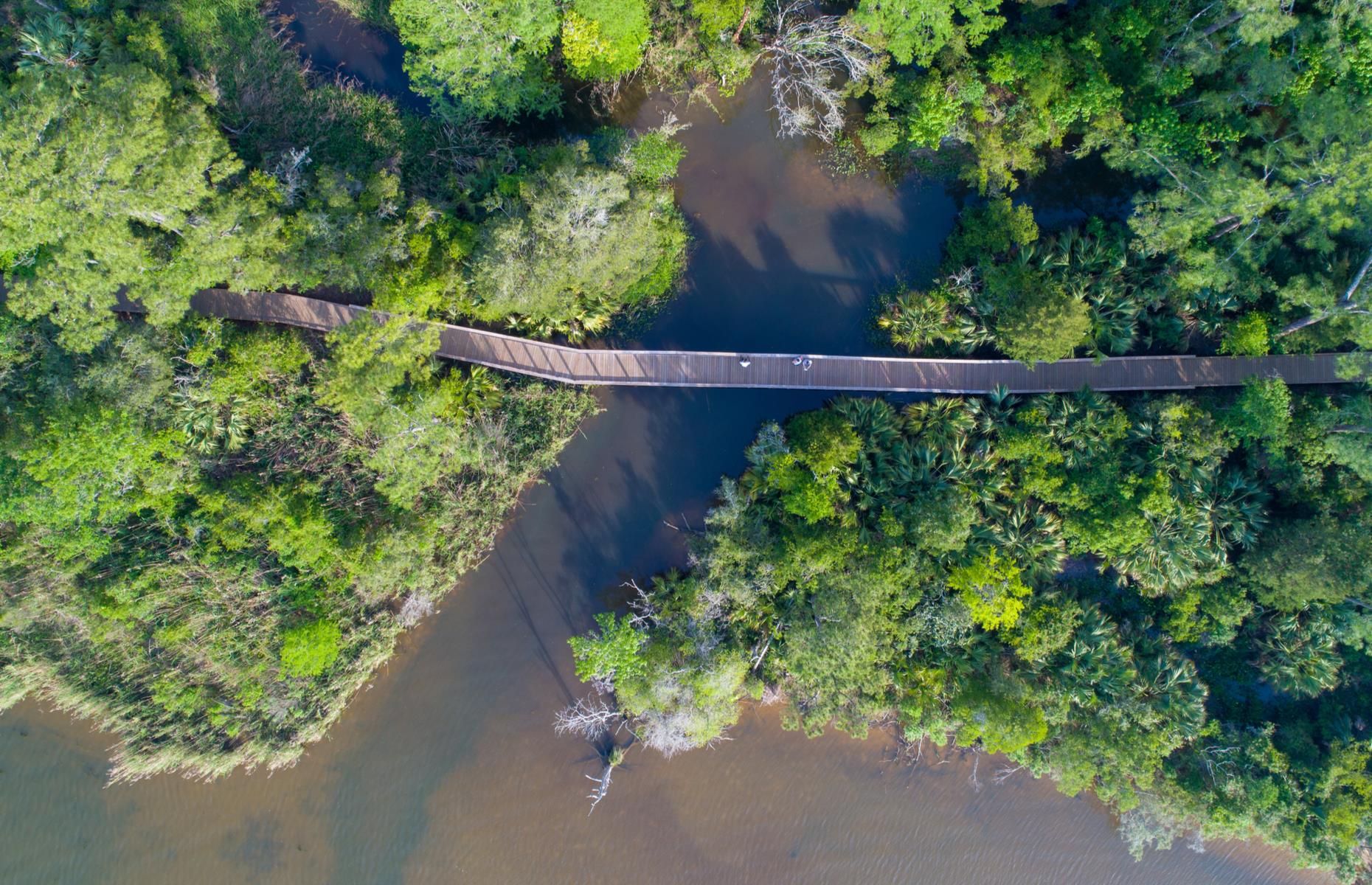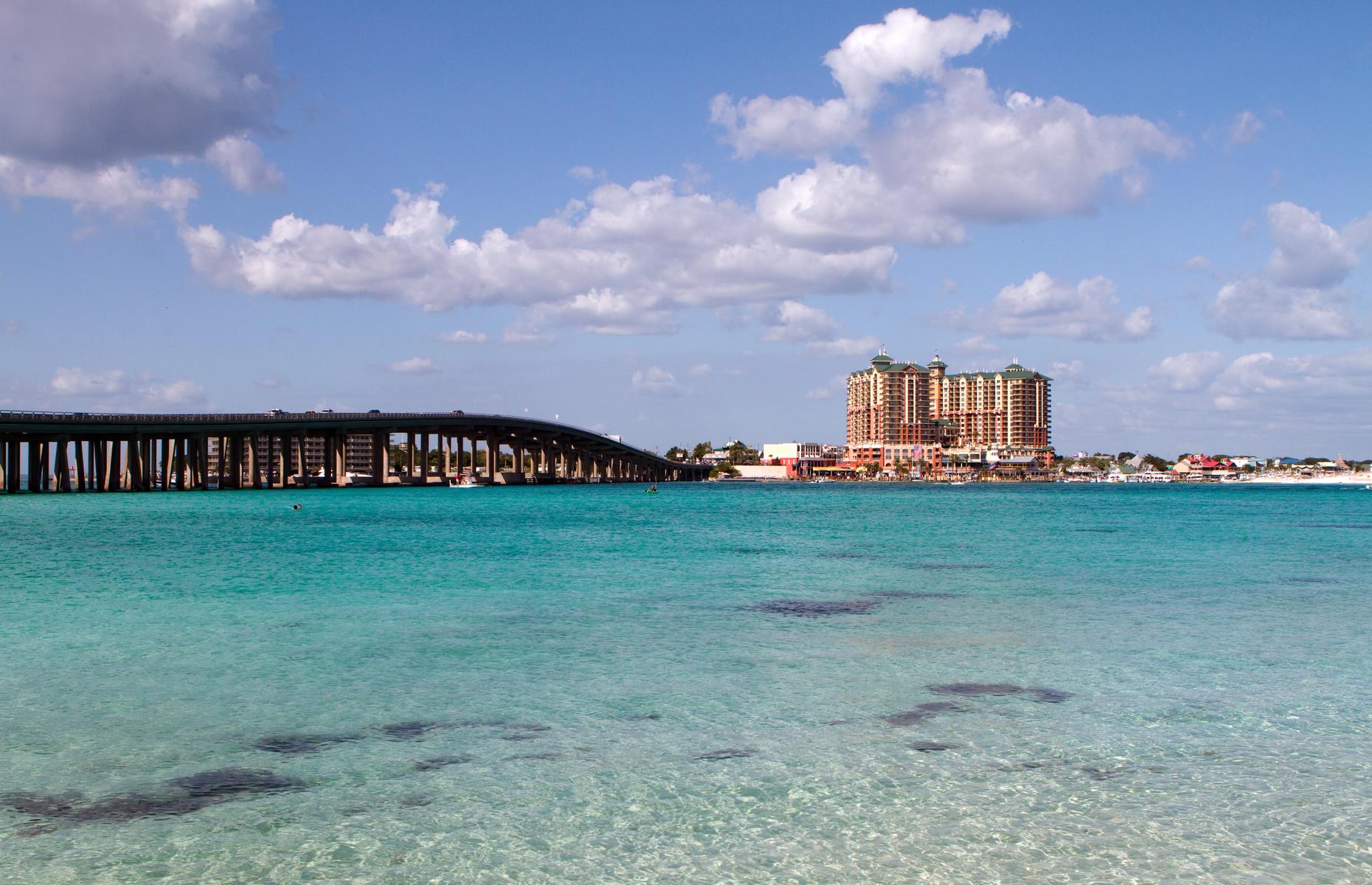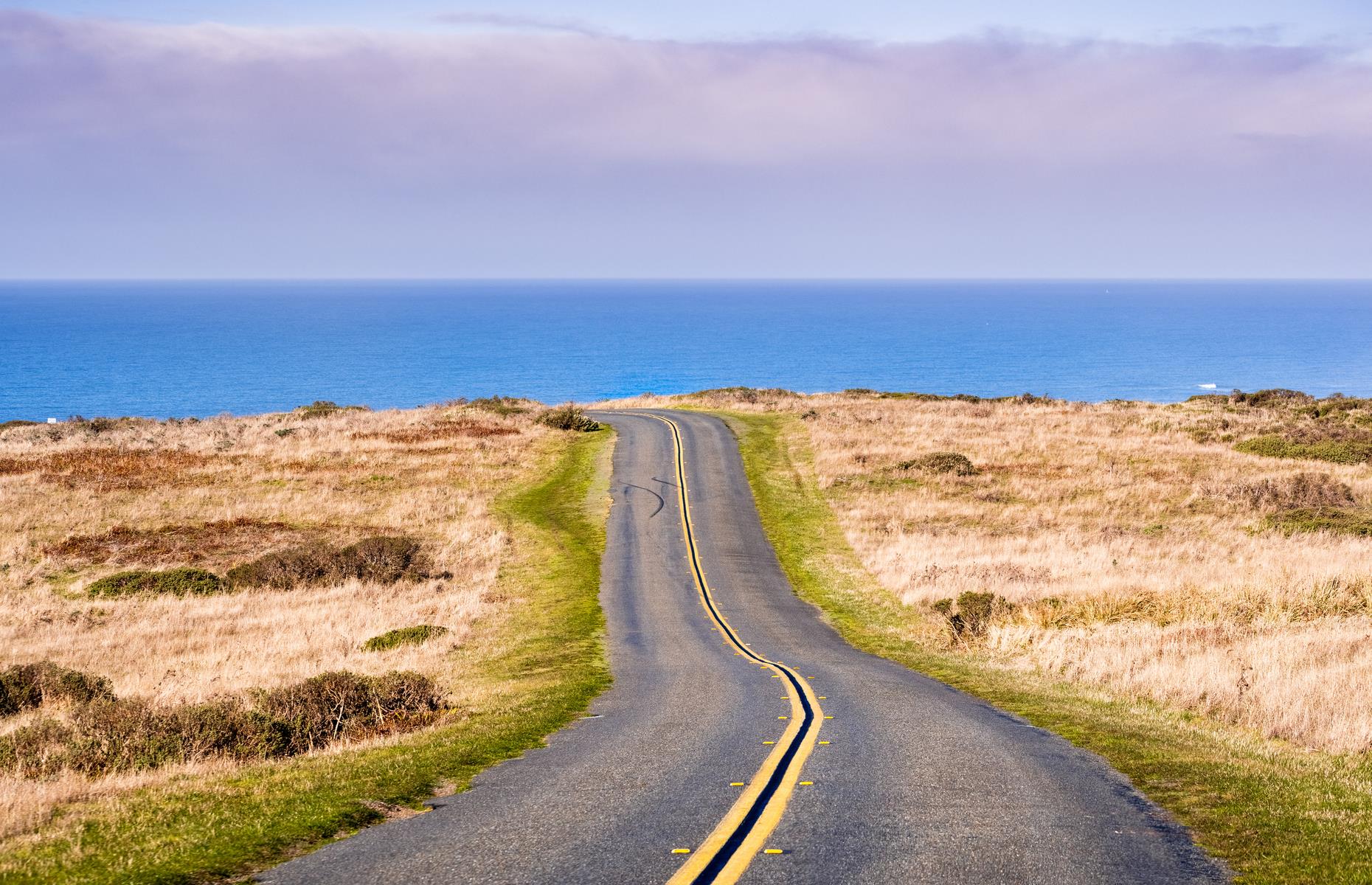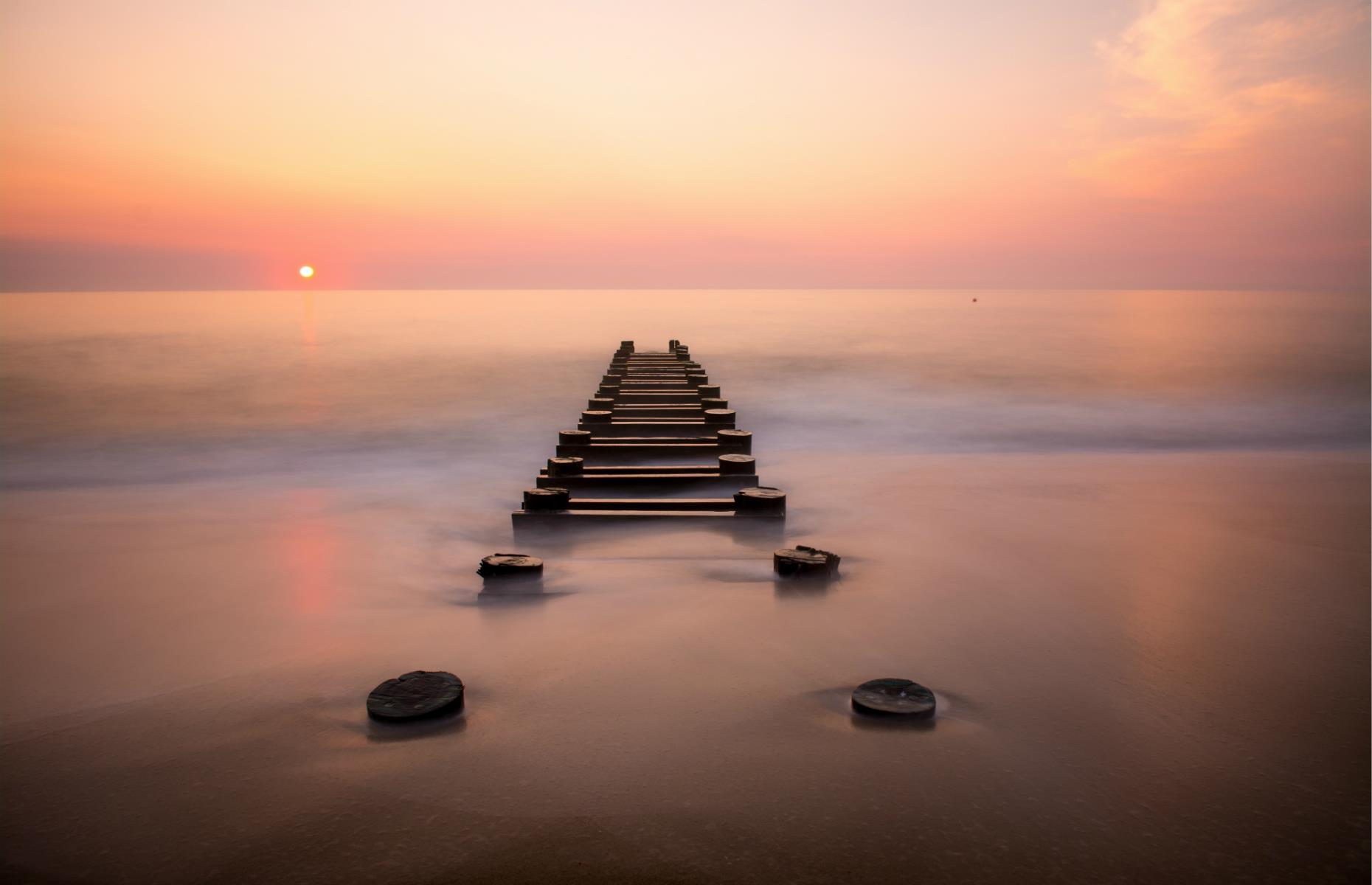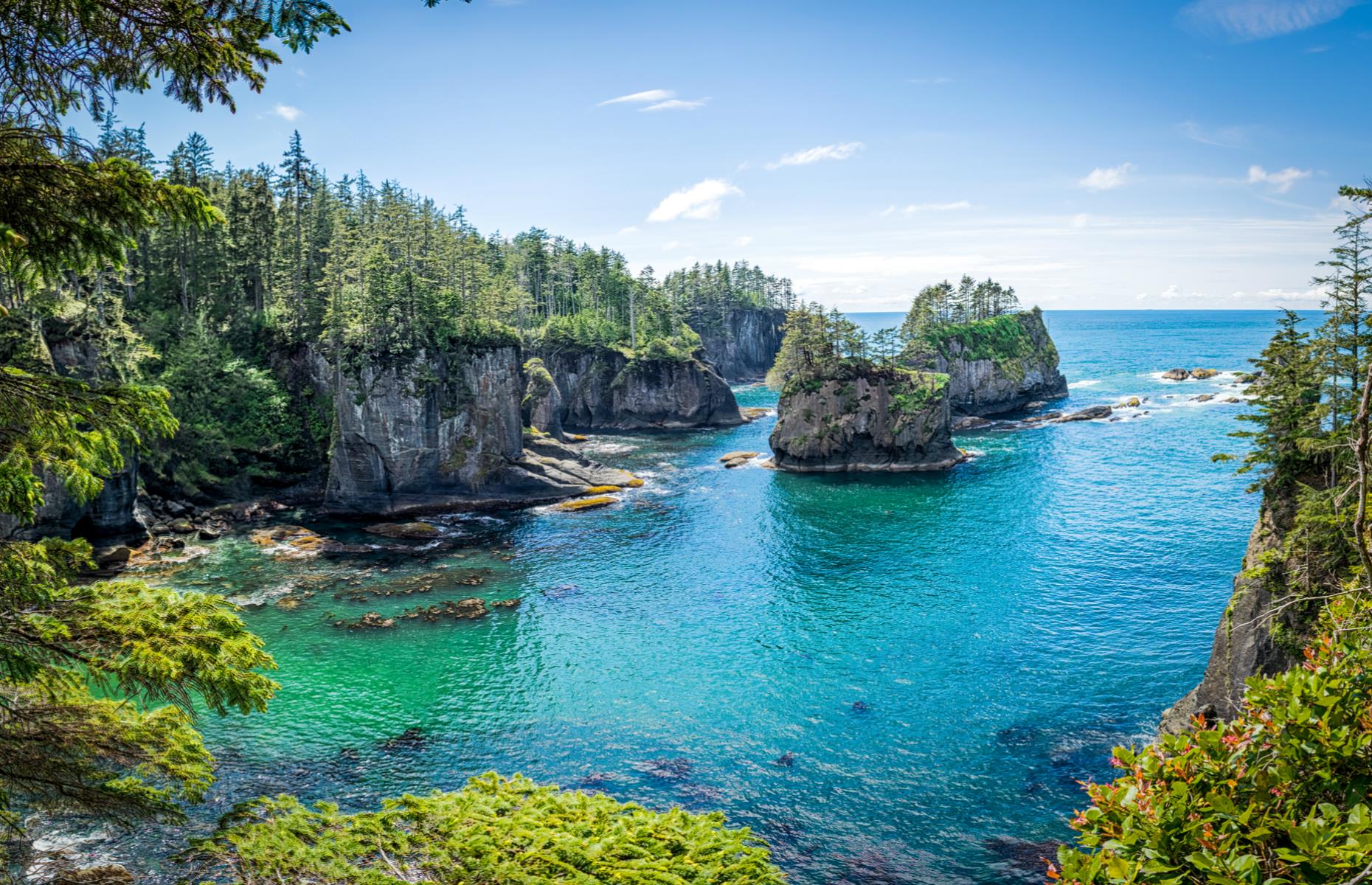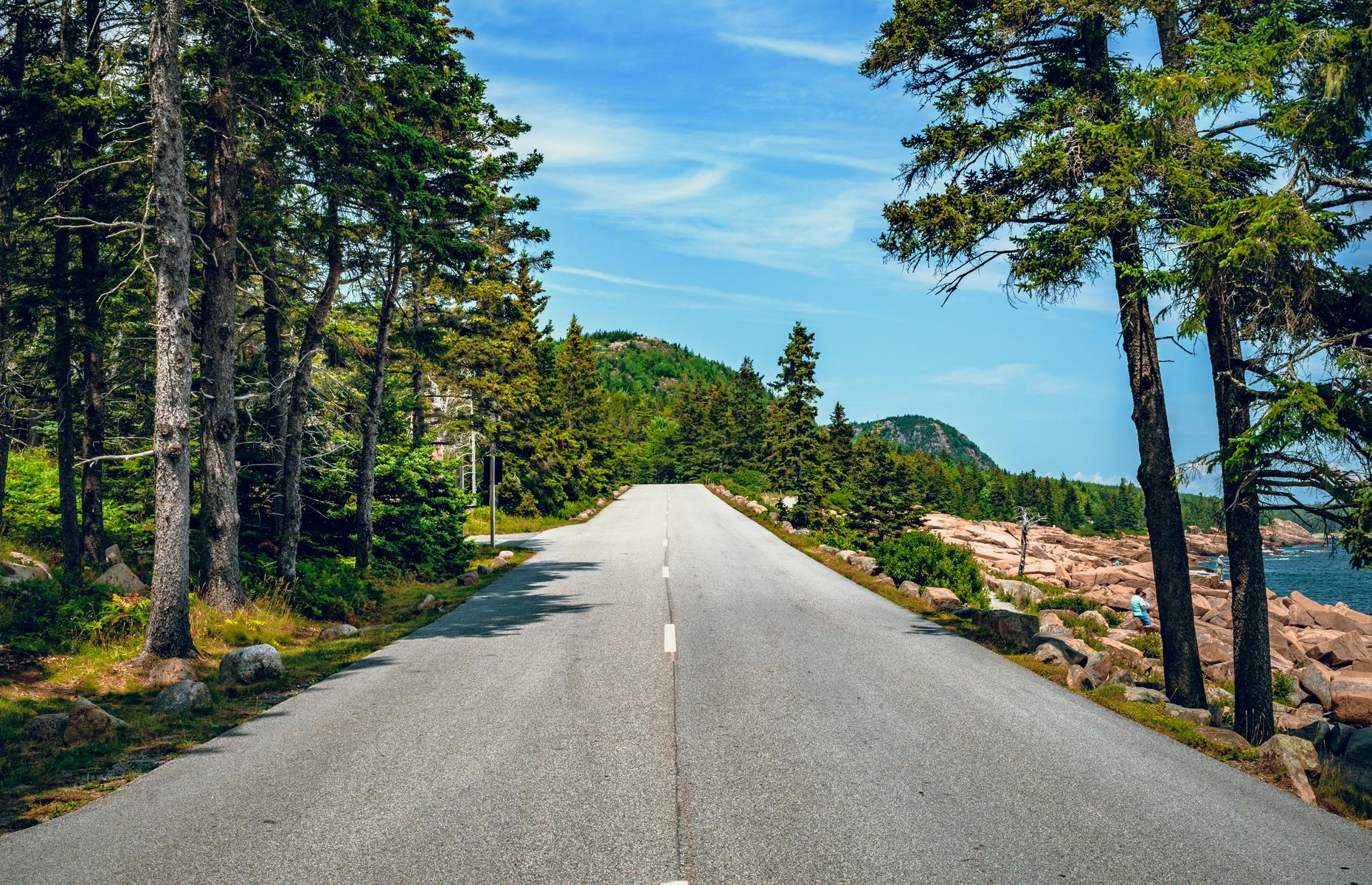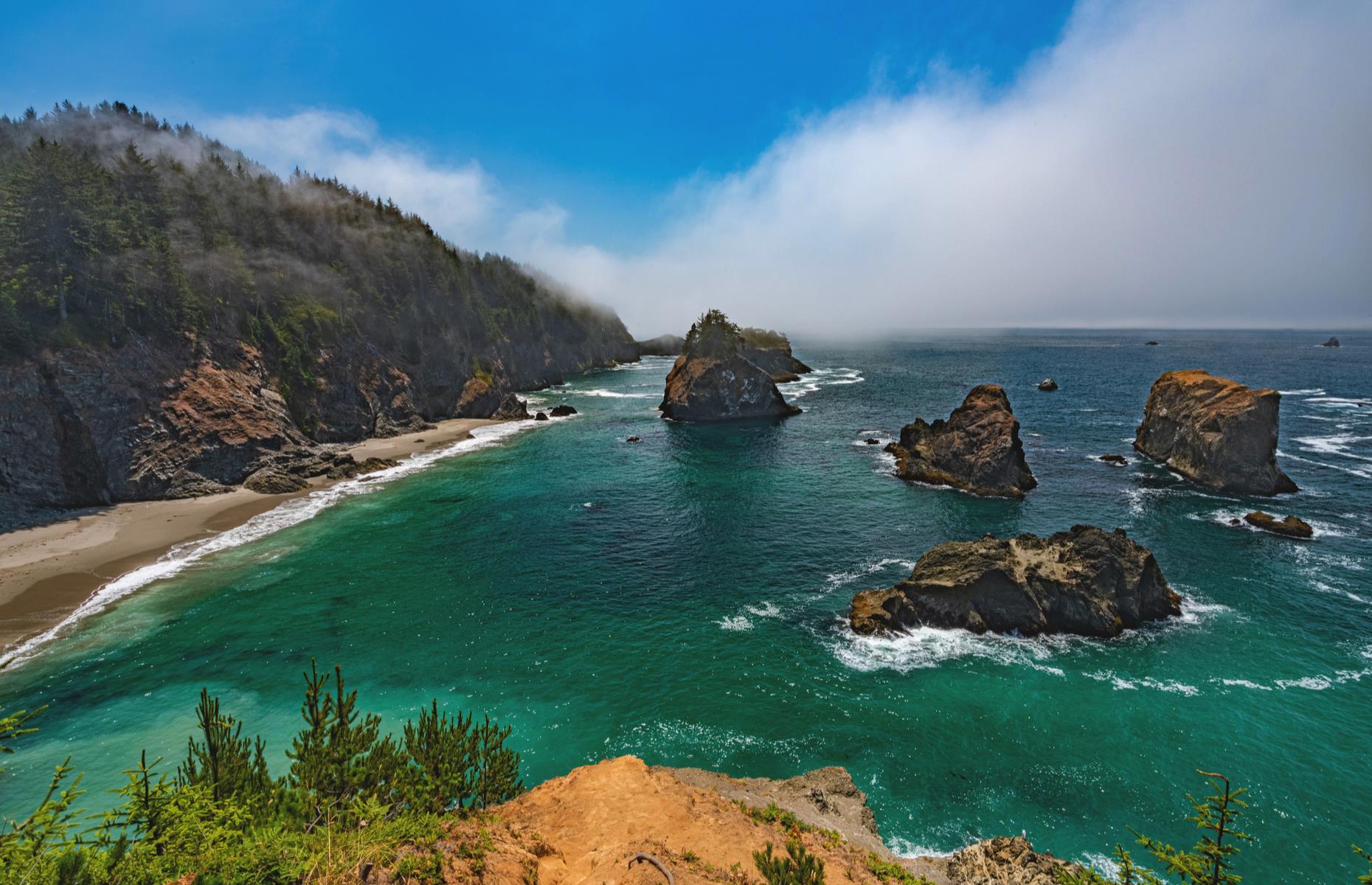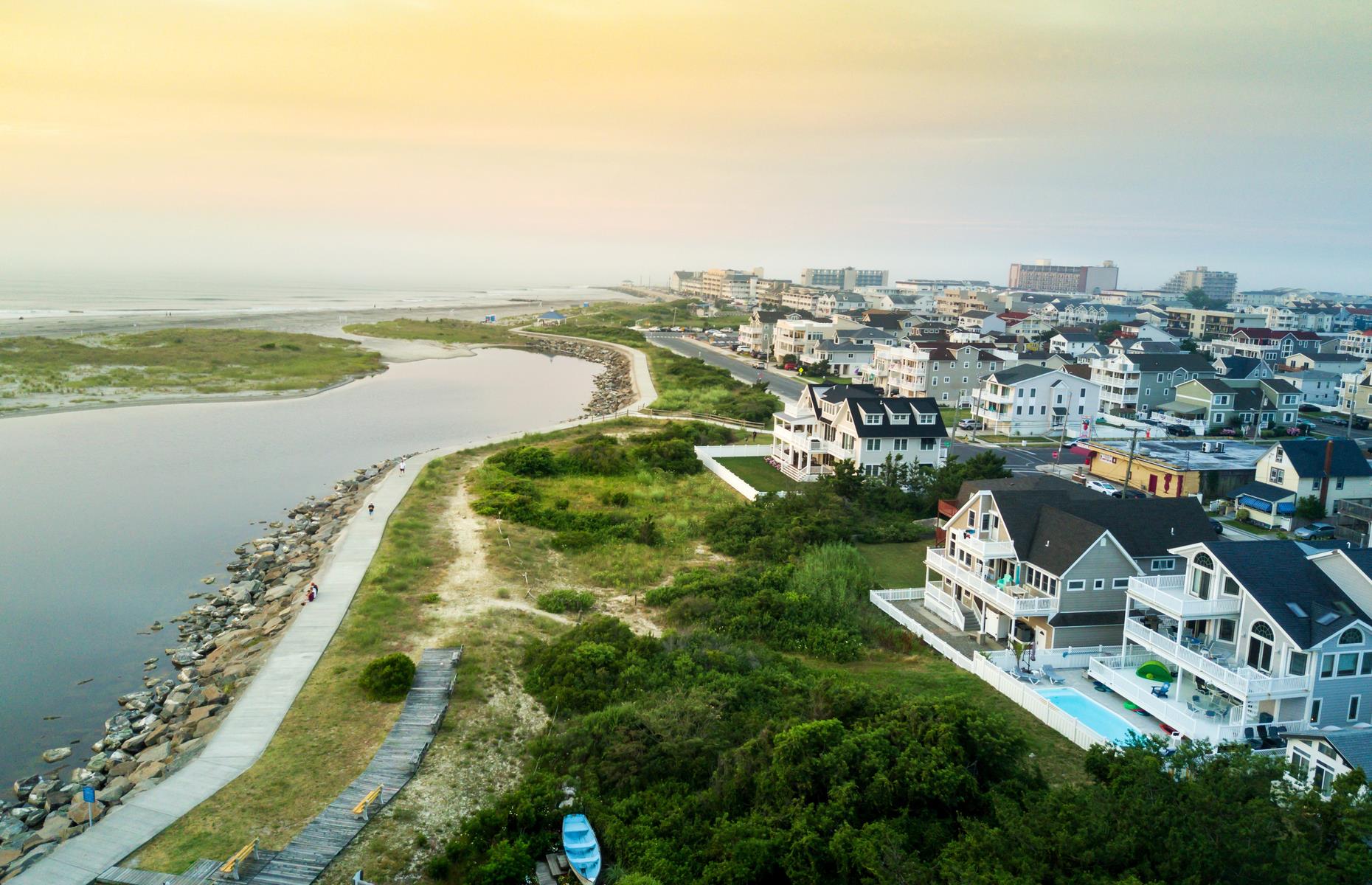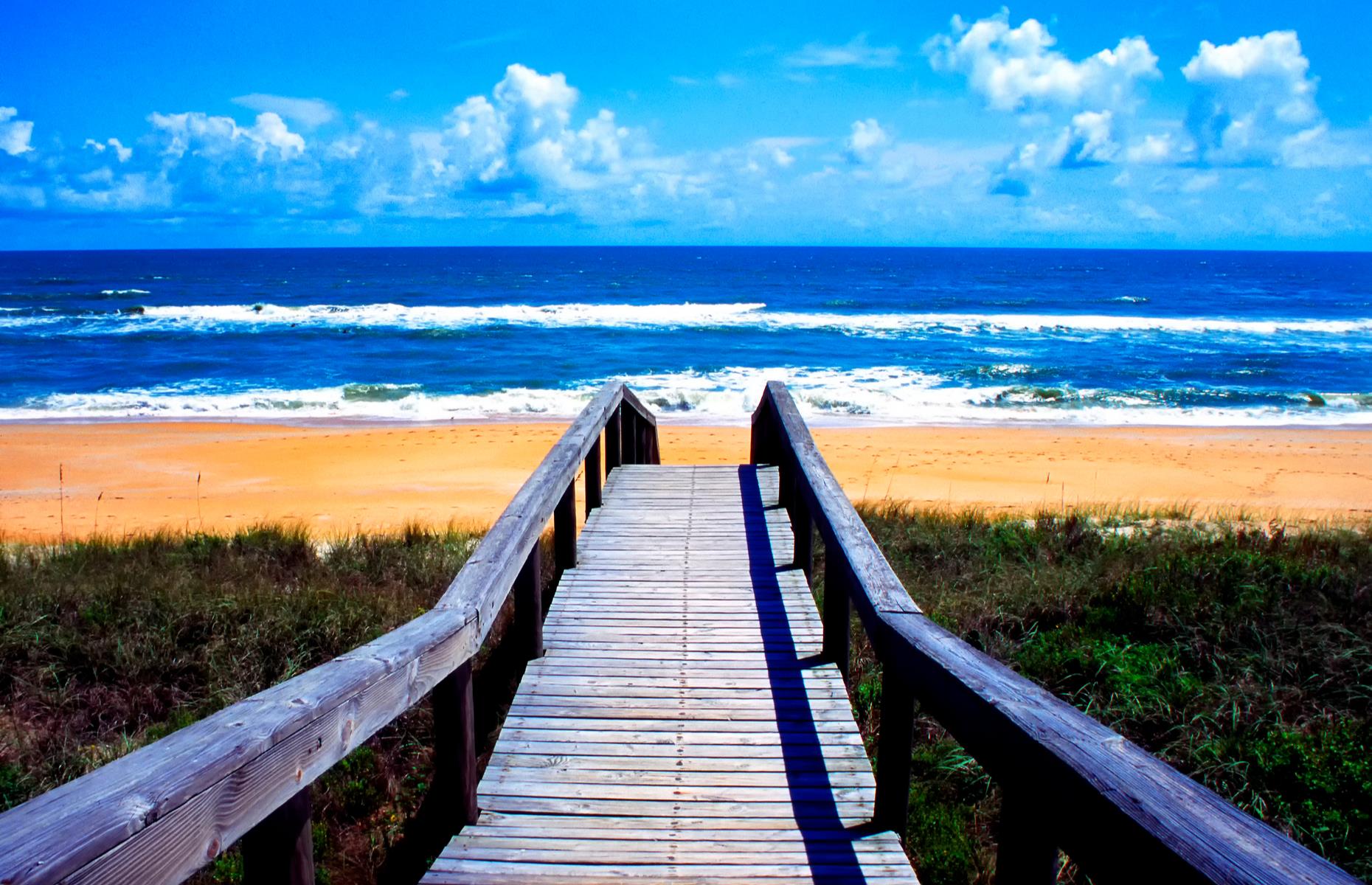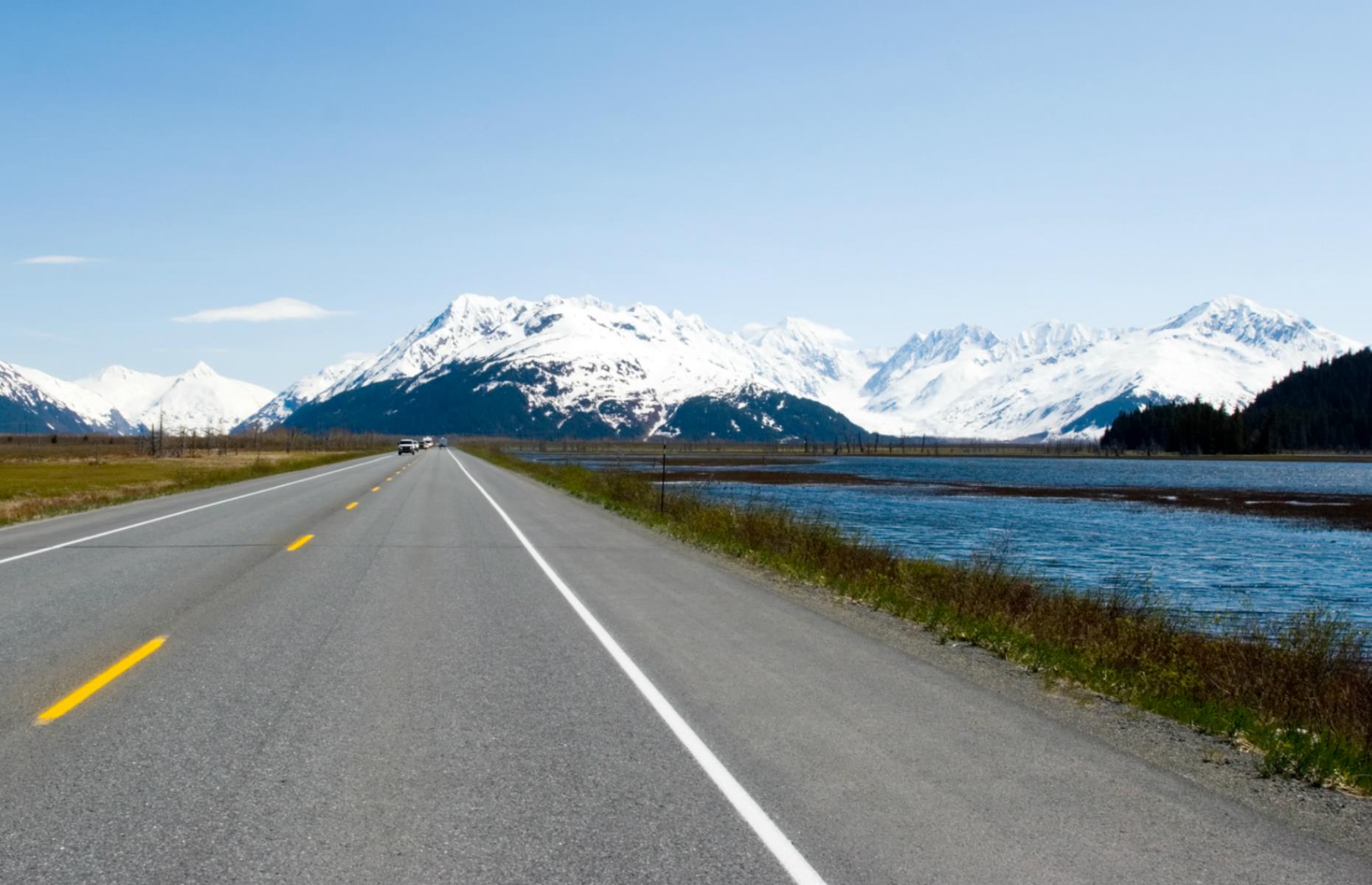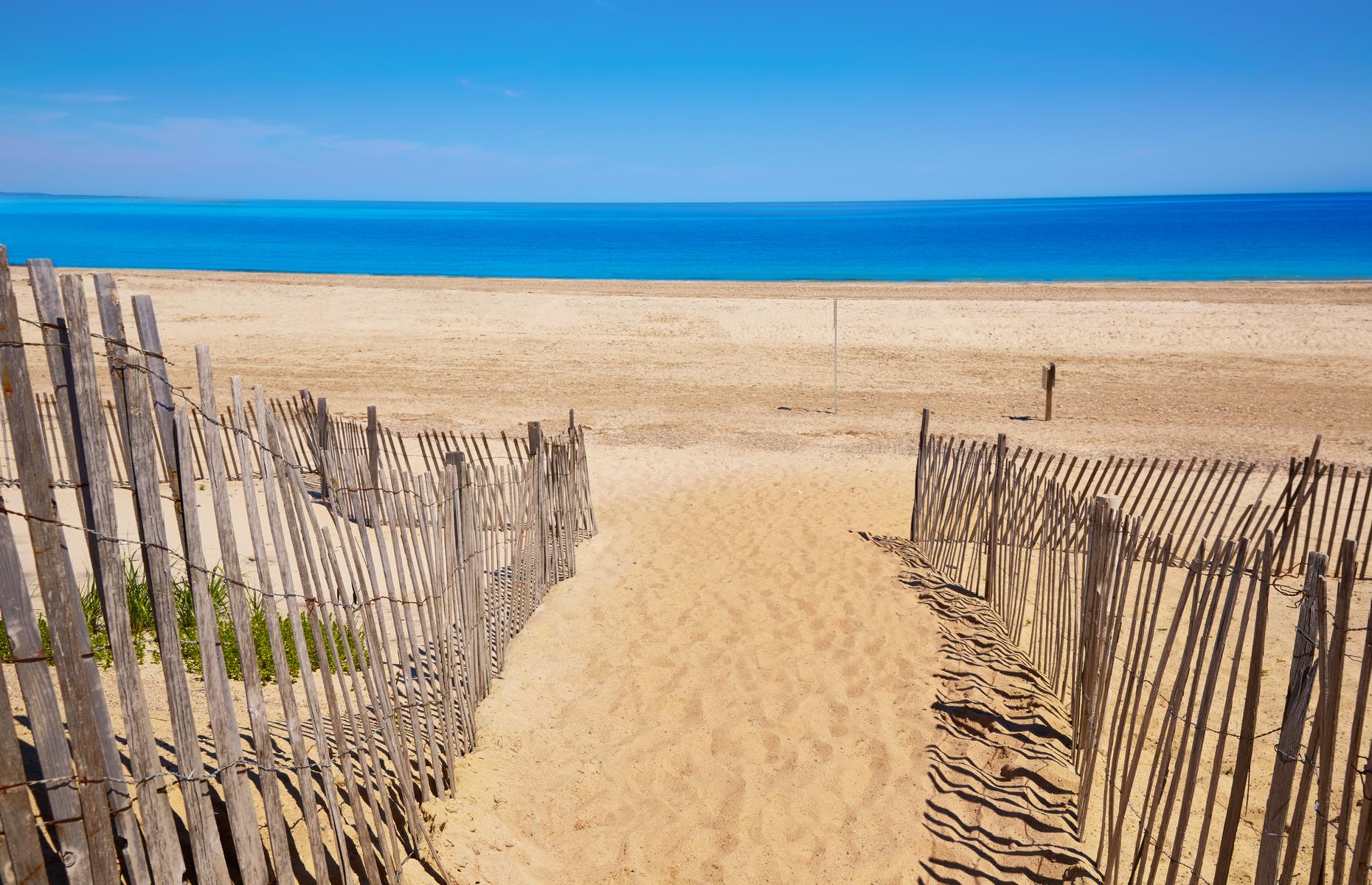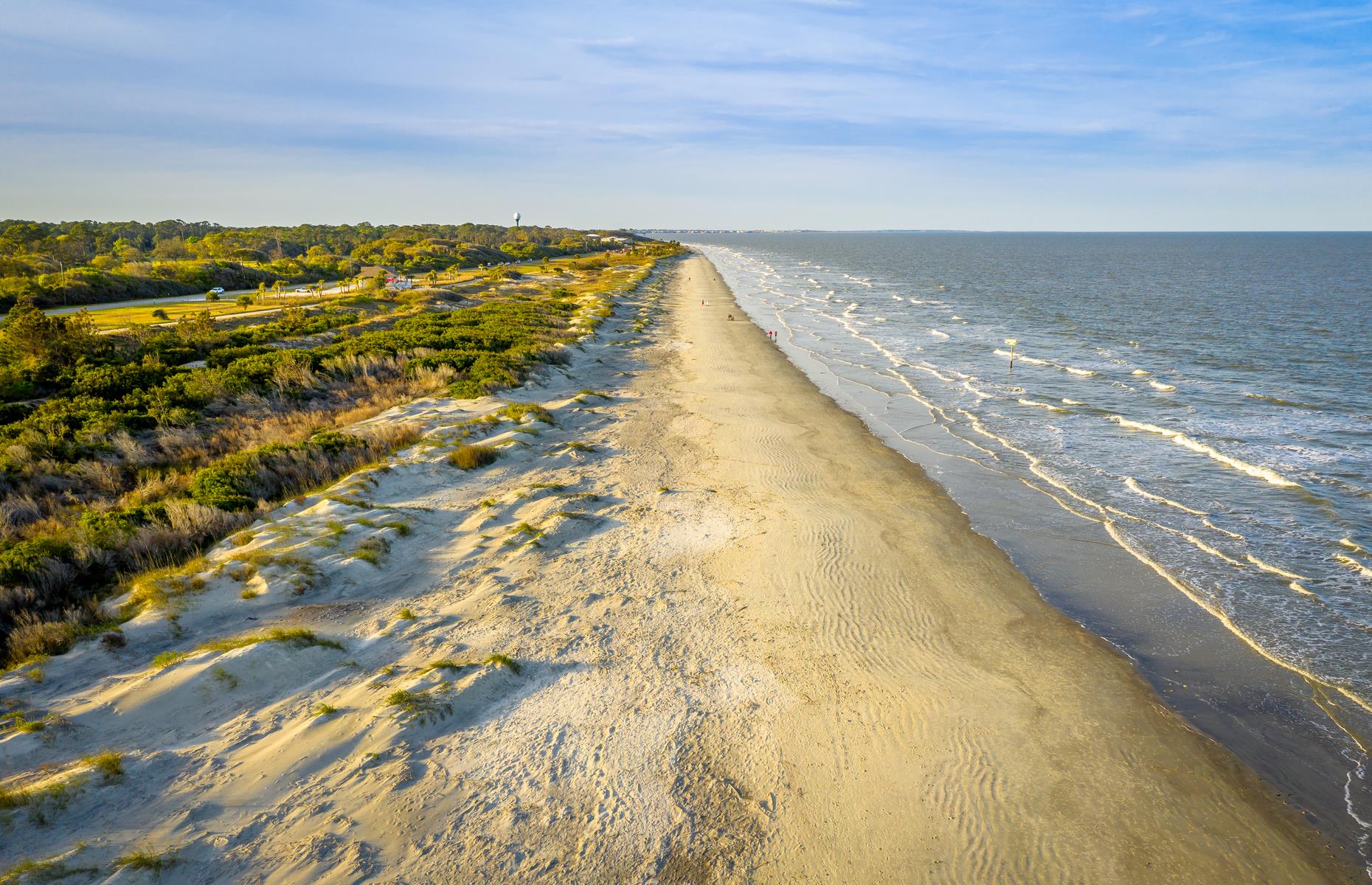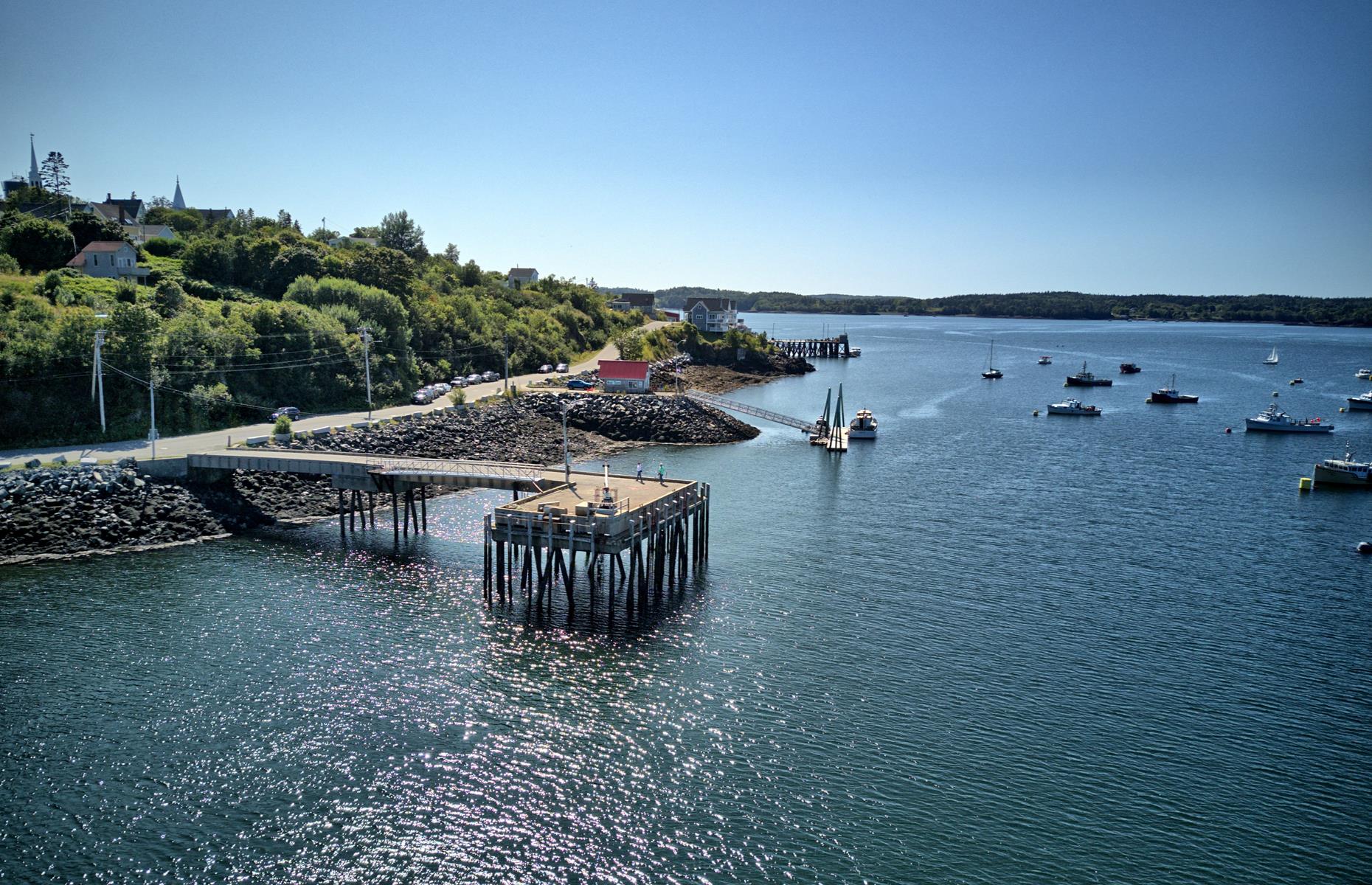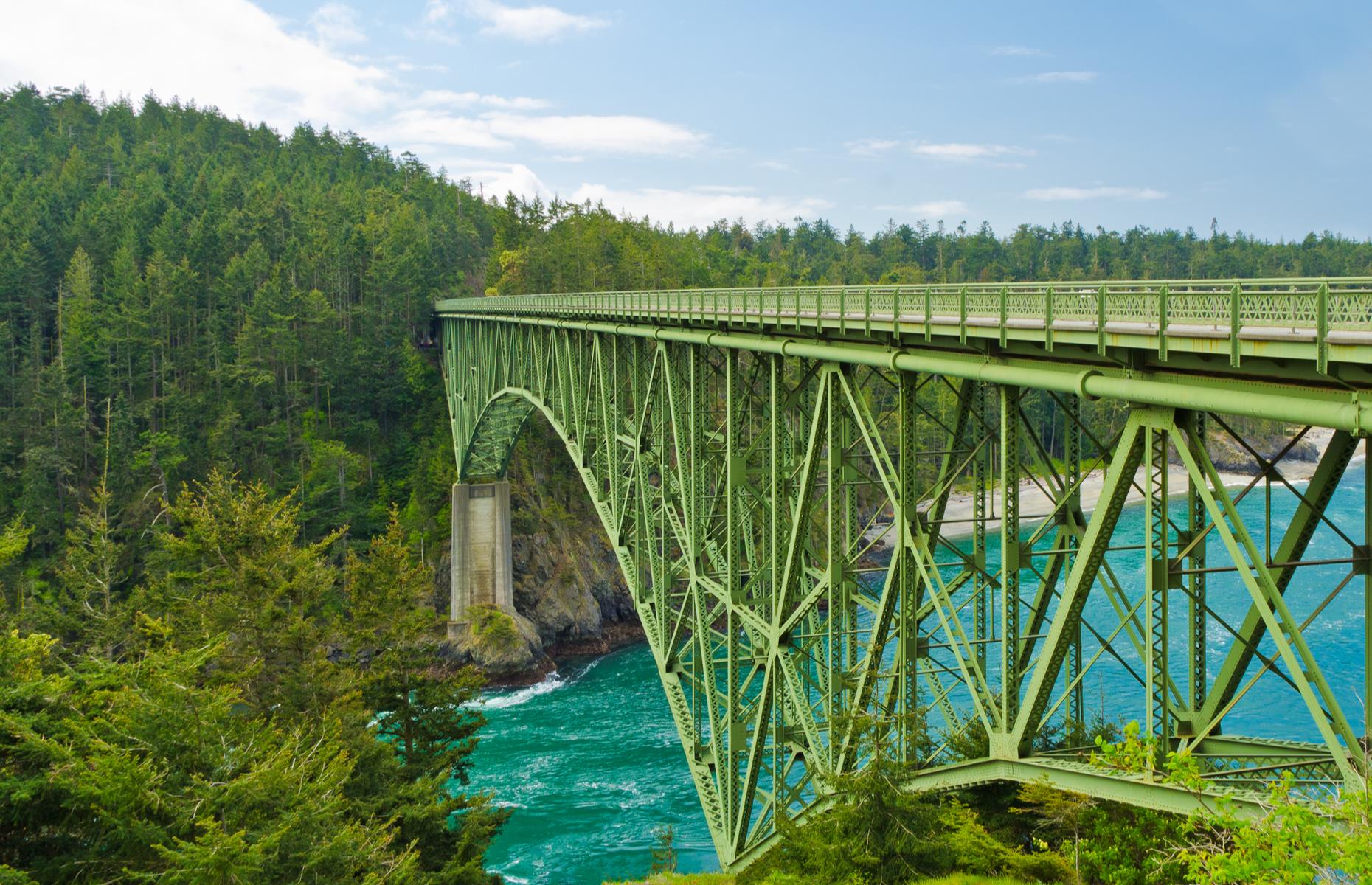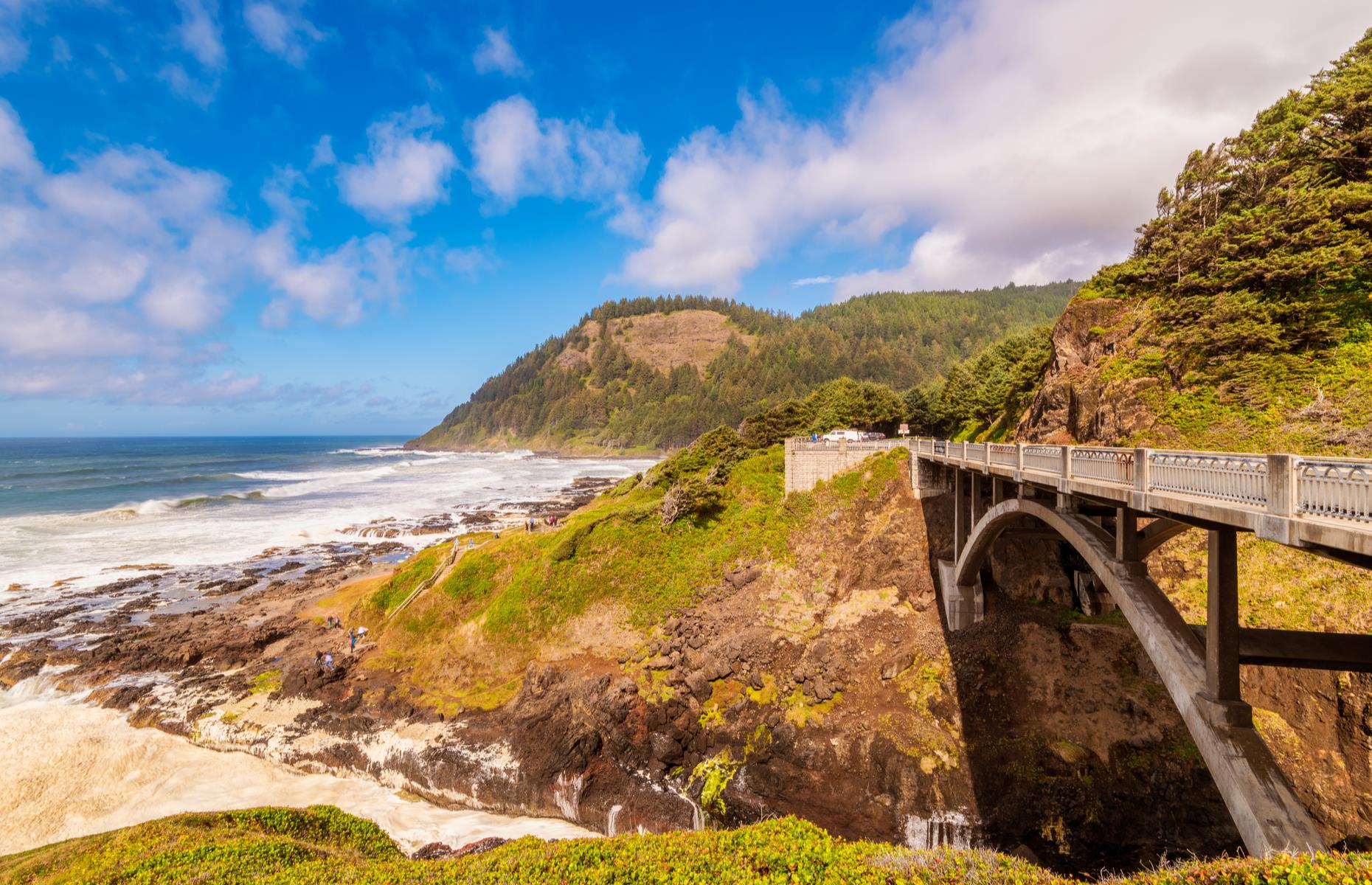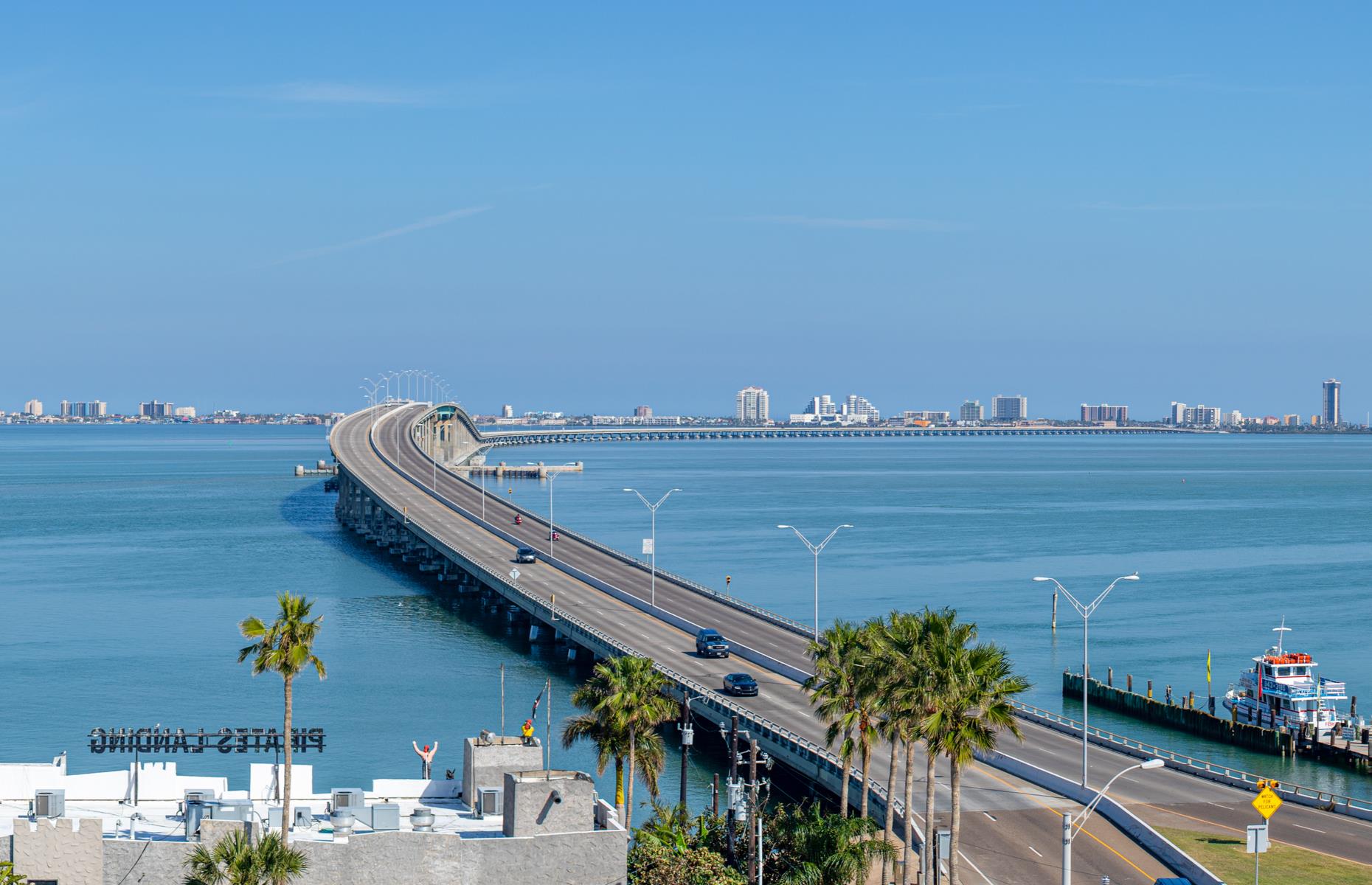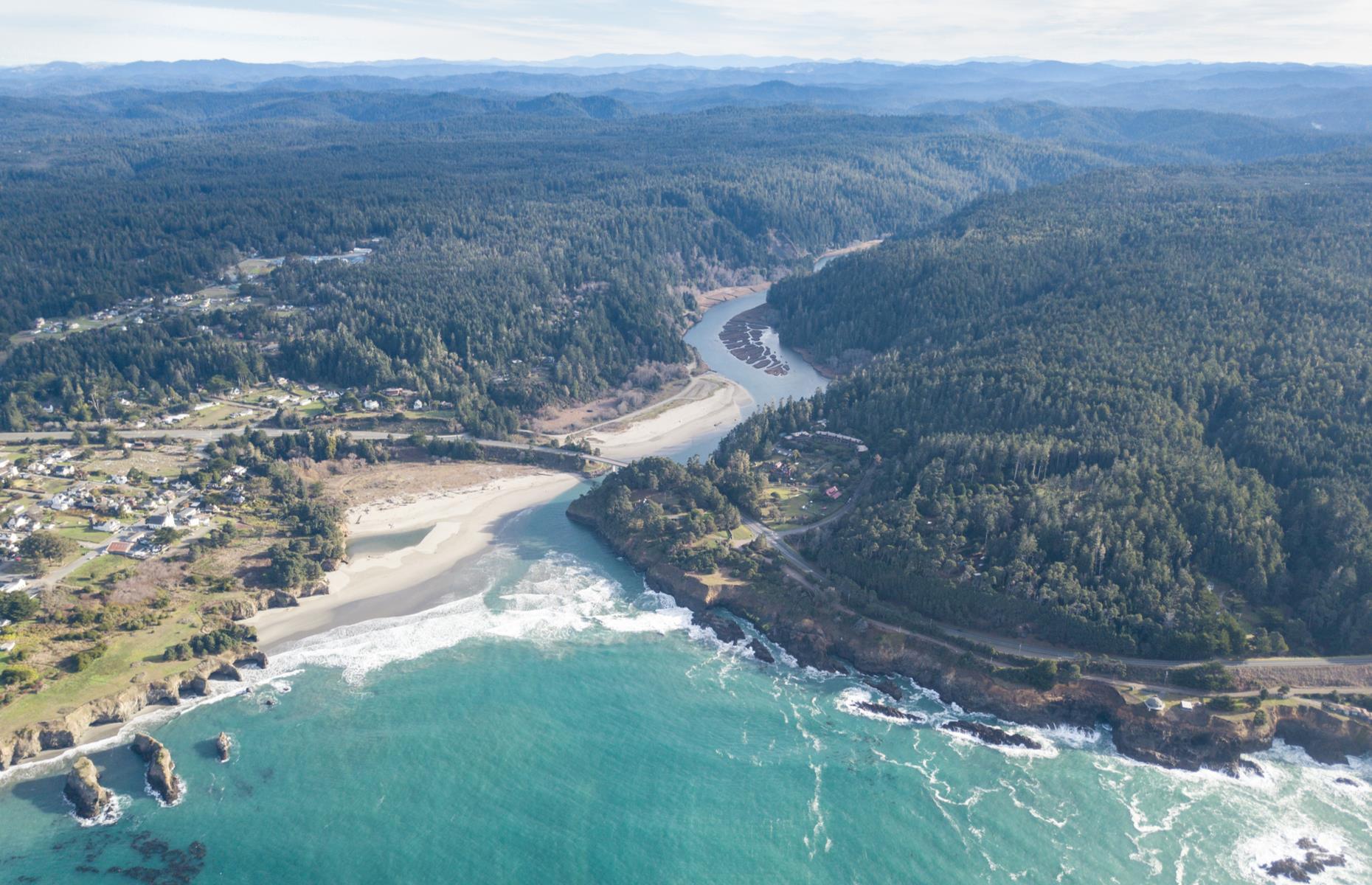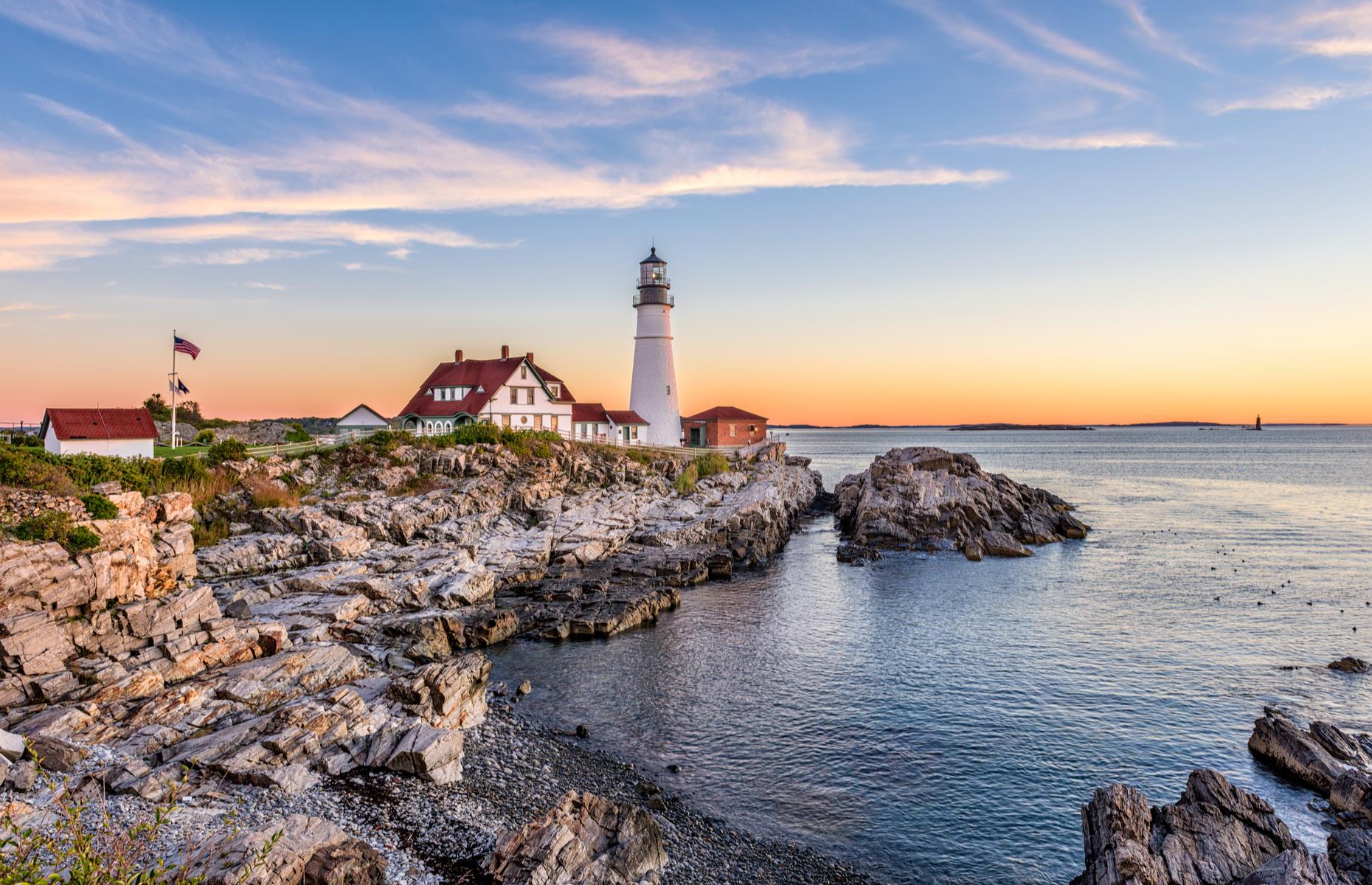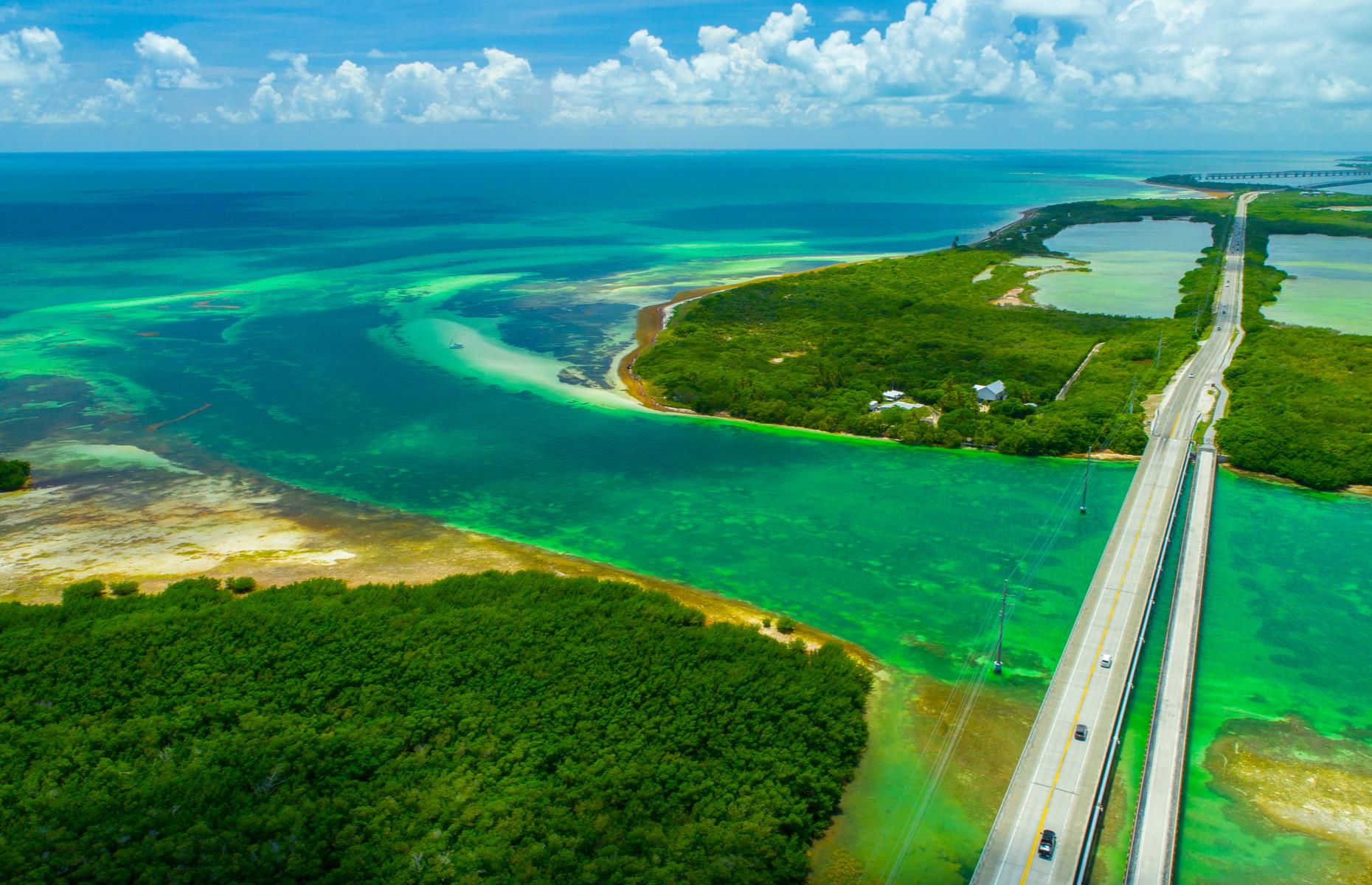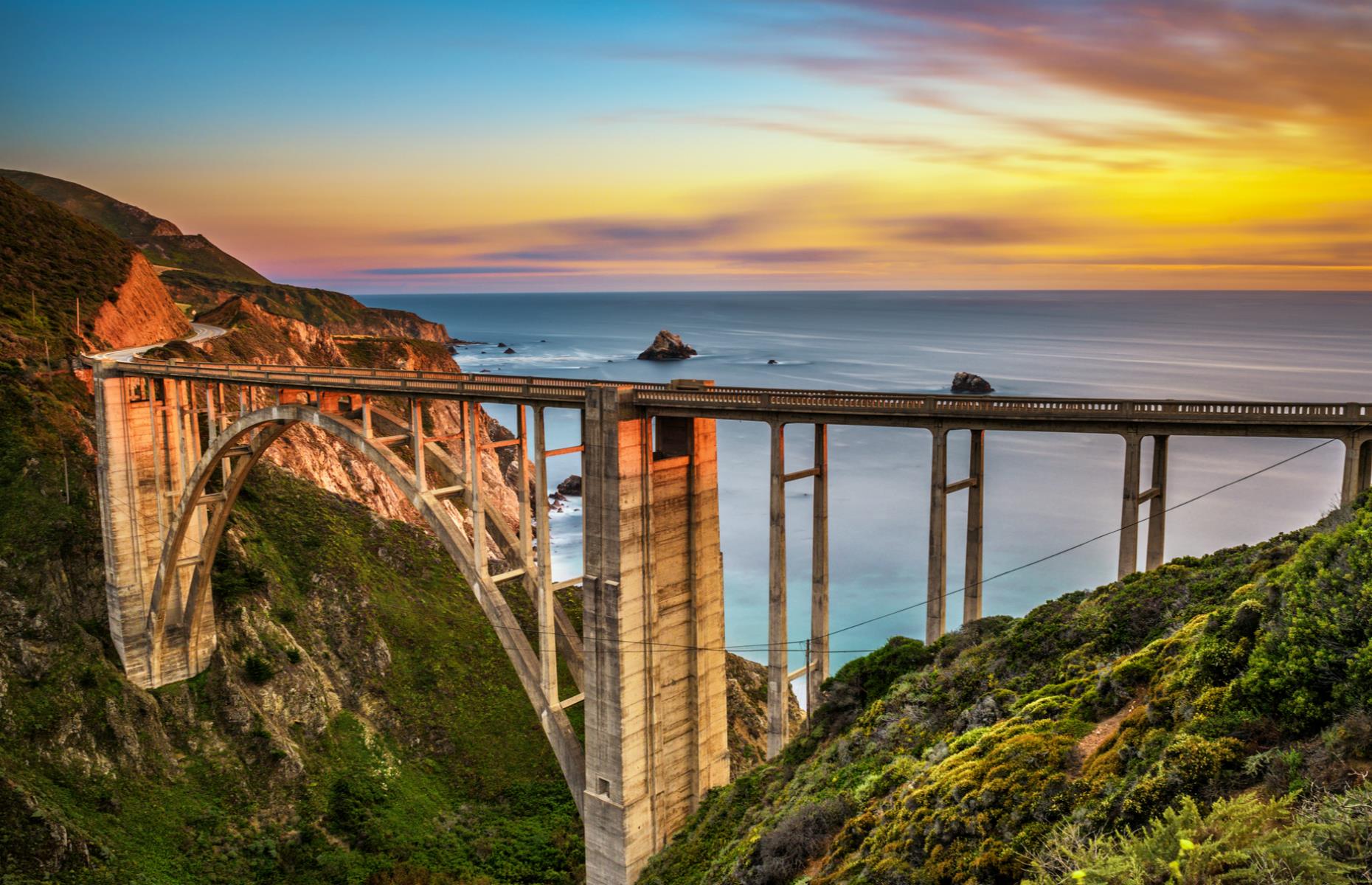 Ocean drives
Outer Banks National Scenic Byway, North Carolina
There isn't a boring stretch of this byway which skims through 140-odd miles (225km) of North Carolina's barrier islands. The Outer Banks provide a skinny, scenic interlude between the mainland and the Atlantic Ocean, with the byway crossing several of the islands. Road-trippers can follow curvy, shrub-lined dunes that part to reveal pale biscuit-colored beaches and glimpses of teal water, stopping to visit lighthouses including the striking, striped beauty at Bodie Island.
Olympic Peninsula Loop, Washington
There's a lot to explore and gawp at within this vast national park, with everything from beaches to rainforest. The 329-mile (529km) loop that surrounds it is a lovely introduction, though, and really highlights how varied the landscape is. The route starts in the state capital of Olympia and skirts between the park and the coast, passing inlets, caramel beaches and coves with rock pools inhabited by purple starfish and hermit crabs.
Highway 399, Florida
There are several routes that lead out of Pensacola, part of the Florida Panhandle. We recommend taking the slow road which also happens to be the most beguiling. Highway 399 is pancake-flat which only makes the 360-degree views more spectacular. The 22-mile (35km) road is trimmed with alabaster sand dunes and pastel beach homes, with pullouts along the route so drivers can stop and breathe in the views and salt-sprayed air.
17-Mile Drive, California
The 17-Mile Drive (27km) in Pebble Beach, north of Carmel, is not a route you take if you really need to get somewhere. A kind of road trip within a road trip, this is a detour from the Pacific Coast Highway – and the type of drive that is specifically designed to be taken very slowly. The route is dotted with stops to stare at alabaster beaches, harbor seals and the lone cypress tree, which sprouts on its solitary rocky perch above the ocean.
Hana Highway, Hawaii
Known as the Road to Hana, the Hana Highway is 64 miles (103km) of pure paradise: a distillation of the scenery that probably springs to mind when you imagine the island of Maui. It curls around the edge of the Pacific Ocean, slicing through thickly forested slopes and often soaring high above the water. Its curves, wiggles and single-lane bridges mean it's one to be taken slowly, though scenery like this isn't meant to be rushed.
Ocean Drive, Florida
It only stretches for around 1.5 miles (2.2km) but Ocean Drive is a real head-turner. In fact this road, which follows the coast in Miami's South Beach neighborhood, is one that deserves to be taken time and time again. There's always something new to spot, from the bright Art Deco hotels and theaters to glimpses of sand through the palm trees and people strolling, cycling or rollerblading along the boulevard.
Carolina Beach, North Carolina
This coastal drive is a little different because it involves driving on, rather than past, the sand. Barrier island Carolina Beach, just off the coast of cute college town Wilmington, is home to Freeman Park, where it's possible to cruise along two miles (3.2km) of sand that's lapped by the Atlantic. You can't get much closer than that. You'll need a permit and only 4WD vehicles are permitted to drive on the beach – check the website for details.
Coastal Connection, Alabama
This designated scenic byway is an eye-opening introduction to the blazing beauty of Alabama's coastline. The white beaches of Gulf Shores and Orange Beach are dazzling. Mobile, a walkable, wonderfully charming port city is the perfect start or end to a coastal road trip here. The route winds for 130 miles (209km) to link up marshy wildlife preserves, dune-backed beaches, historic naval sites and seafood restaurants. Discover the most beautiful scenic byway in your state.
Highway 98, Florida
Highway 98 runs through Mississippi and Alabama but the prettiest part hugs the gray-blue Gulf of Mexico on Florida's southern coast between Pensacola and fishing town Apalachicola. It skims by Destin – whose boardwalk and seafood restaurants make it a perfect pit stop – and Seaside, where 1998 Jim Carrey movie The Truman Show was filmed. Along the way are bays, overwater bridges and vast chunks of state forest.
Point Reyes National Seashore, California
The coastline north of San Francisco may not be as famous as its southern cousins but it has a quiet, wild beauty that's all its own. The Pacific Coast Highway cuts through rolling farms grazed by dairy cows and goats to reach a coastline laced with mudflats, salt marshes, crumbly golden beaches and cypress forests. Places to stretch your legs and explore include Tomales Bay, known for oysters, and Point Reyes Station, whose handful of businesses include a creamery and a lively café.
Delmarva Peninsula, Delaware, Maryland and Virginia
Cape Flattery Tribal Byway, Washington
On the Olympic Peninsula, the Cape Flattery Tribal Byway is a detour from the Olympic Peninsula Loop that encircles Olympic National Park. It's worth a special trip to see this ethereal curl of coastline. Craggy coves and sandy beaches are backed by tree-cloaked cliffs and gaze out to turquoise water dotted with sea stacks, resembling a postcard from the Philippines or Hawaii. The route passes Clallam Bay, Cape Flattery and Hobuck Beach Resort, managed by the Makah Reservation.
Acadia National Park Loop Road, Maine
This scenic route loops through 27 miles (43km) of Acadia National Park, with stretches flanked by trees, skirting lakes and skimming the rocky coastline. At times it climbs high into the mountains for clear ocean views, while in parts it dips so low you can almost touch the water. There's no need to get out of the car to appreciate the scenery but a stroll on the bluffs, a peek in the rock pools and maybe even a paddle from the sandy beach are pretty irresistible.
Samuel H. Boardman State Scenic Corridor, Oregon
The entire Oregon coastline is a line-up of dark honey beaches, rock formations, bluffs and forests – so picking the prettiest bit is near impossible. But this 12-mile (19km) scenic drive, which weaves along the edge of the Pacific through a forested coastal park, is tough to beat. Beaches sit snugly and often gloriously quietly beneath craggy bluffs. Allow time to stroll on the sand, gaze out at the sea stacks and natural arches, and hike trails that lead to more of those views.
Ocean Drive, New Jersey
A1A Coastal Byway, Florida
The A1A runs the gamut of gorgeousness all the way down Florida's Atlantic coastline, but it's this 72-mile (116km) portion from Jacksonville to Flagler Beach that bursts with the most beauty. It slices through forested state parks, skims by creamy beaches and soars over salt marshes and along skinny keys. Highlights include St. Augustine – founded in the 16th century – and the long wooden pier at Flagler Beach. If that isn't aesthetically pleasing enough, the 100-odd galleries dotted along the route should help.
Seward Highway, Alaska
The 125-mile (201km) stretch from Anchorage to Seward encompasses some of Alaska's most jaw-dropping coastal scenery. It slices through the vast wilderness of the Kenai Peninsula and portions of the Chugach National Forest, where Dall sheep graze on mountain slopes. Perhaps the most gorgeous part, though, is where the road curls around Turnagain Arm, with mountains on one side and the flat, blue-gray water on the other. Look out for beluga whales which can sometimes be seen close to the shore.
Highway 6A, Massachusetts
There's no ugly way to pass through Cape Cod, the peninsula that curls out into the ocean from Massachusetts' coastline. Highway 6A is the best bet if you really want to get close to the water, skimming for 63 miles (101km) by Cape Cod Bay and passing creamy beaches, lighthouses, historic towns and state parks before ending in Provincetown at the tip. Once there, it's worth taking another scenic drive through the sand dunes, which are dotted with 1920s artists' shacks and can usually be explored on a guided 4WD tour.
Golden Isles, Georgia
Georgia's coastline stretches a mere 100 miles (161km) – but what pretty miles they are. From Cumberland Island north to Tybee Island, close to Savannah, its edges are intricately laced with swamps, estuaries, barrier islands and beaches strewn with pale driftwood. The Golden Isles offer some of the most serenely beautiful scenery, with marshes and beaches fringed by oak trees draped in Spanish moss. A coastline imbued with Southern charm. These are America's most charming seaside towns.
Bold Coast Scenic Byway, Maine
Every inch of Maine's coast is lovely but the Bold Coast really packs in the blazingly blue beauty. This is 125 miles (201km) of ocean and bay views from high perches and roads that skim daringly close to the water, passing mudflats, lobster wharfs and rocky coves. It loops down from fishing community Milbridge to Eastport, via Lubec – the easternmost town in the continental US and home to candy-striped West Quoddy Head Lighthouse.
Whidbey Scenic Isle Way, Washington
A short drive from Seattle and a ferry ride transports you to arty, laid-back Whidbey Island and the start of this scenic route. It traces the edges of the island, passing oyster beds, colorful towns and fir-trimmed coves. The official end – and dramatic highlight – is Deception Pass Bridge, actually a pair of bridges soaring dramatically above the water to connect Whidbey to Fidalgo Island. Extra stopping and staring time is essential, whether to scour the coastline for orcas or to just soak up the area's bold beauty.
Cape Perpetua, Oregon
A portion of the US 101 skims along this heavily forested portion of Oregon's gorgeous coastline. You can get even closer with a number of smaller roads like the winding route to Cape Perpetua Overlook, for uninterrupted Pacific views. At Cook's Chasm, pull straight off the 101 into a parking area for views of Thor's Well, dubbed the 'Drainpipe of the Pacific' as it sucks the water in before spurting it back out with dramatic flourish.
State Park Road 100, Texas
The journey to South Padre Island, off Texas' southern coast, is as joyful as the destination. The route follows the Queen Isabella Causeway, which soars across the Gulf of Mexico and really gives you a sense of how gorgeous the barrier island is: stretches of bright white sand overlooked by palm trees and lapped by turquoise water. The road continues for 13 miles (21km) once on the island, which is part resort, part protected national seashore. You can usually drive on the sand too, but the park has been closed because of hurricane damage.
Mendocino, California
The northern stretch of California's Highway 1 – known as the Shoreline Highway – is often overlooked in favor of the Pacific Coast Highway. Yet it has a kind of rugged, salty beauty that equals that southern portion. The stretch through Mendocino County is particularly gorgeous with beaches tucked beneath peach-colored bluffs and reached through redwood forests. Don't miss Glass Beach – where glass washed ashore has been naturally polished into colorful pebbles – and Big River Bridge, which crosses the point where the river empties into the Pacific.
Portland to Ogunquit, Maine
It's only a 40-mile (64km) drive between these two waterside wonders if you take the most direct route but it's well worth taking a little longer and choosing the roads that glue to the Atlantic coast pretty much all the way down. They pass sapphire bays, coves, breakwaters and lighthouses, with cute Ogunquit and Perkin's Cove – home to dune-backed beaches, lobster boats and seafood restaurants – waiting at the end. Find stunning US spots to relax in your RV.
Overseas Highway, Florida
Those who've always quite fancied driving over water won't find much closer than this portion of the US1. It soars above the Florida Straits for 160 miles (257km), passing beaches, mangroves and arty towns between Miami and Key West. It's all pinch-yourself beautiful but the most dramatic portion is the Seven Mile Bridge, which seems to fly over the water between Little Duck Key and Knight's Key. Discover the best weekend road trip in your state.
Big Sur, California
If the Pacific Coast Highway – which hugs the ocean for around 650 miles (1,046km) – can be considered the queen of coastal road trips, Big Sur must be its crowning glory. This part of Monterey is all bluffs, bridges and beaches, with a couple of waterfalls and redwood forests sending the beauty completely off the charts. Pullouts and state parks allow road-trippers to stare a little longer at the creamy beaches and landmarks like Bixby Bridge.
Source: Read Full Article