ABOARD THE CRYSTAL ENDEAVOR — Five years after Crystal Cruises announced its entry into the luxury expedition market, the 200-passenger Crystal Endeavor is finally here. 
The German-built ship, long in the making, began service in mid-July. I'm getting a taste of it on a two-night cruise from Miami to the Bahamas. 
Excitement about the Crystal Endeavor came in part from the news that it would have both submarines and helicopters as amenities. Here are three cool features of the ship that you may not have heard as much about. 
The Solarium
While not entirely unique, this two-story surprise at the aft of the Crystal Endeavor on Deck 5 is like no other space I can remember on a ship. It serves as both a swimming pool and a restaurant. Its centerpiece is a 14-by-22 foot pool, the only one available for swimming on this vessel. Spaced around the pool are a series of tables for casual dining at the ship's Marketplace restaurant. 
There is a mezzanine level of dining arrayed in a horseshoe-shaped balcony. Guests can either order food themselves at the quick-service counter or have it served at the table by waiters.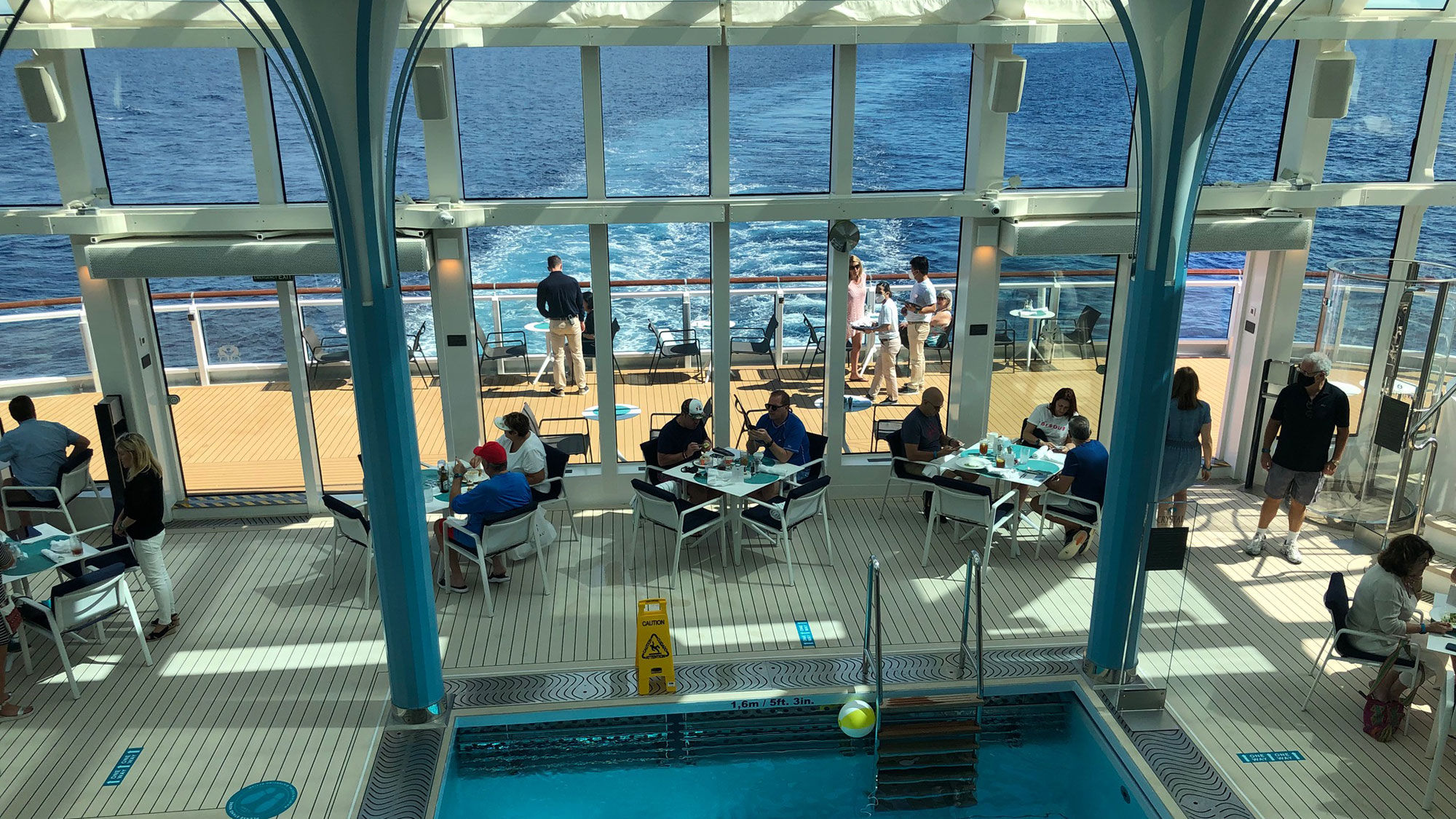 Decorated in blue and white, a majority of the room is comprised of double-height floor-to-ceiling glass windows, giving it an extremely airy feel. The dining area continues on an al fresco deck overlooking the stern, accommodating a half-dozen tables.  
The pool, with a depth of about 5 feet, has a moveable floor so it can be drained and the floor elevated to deck level. "It comes up when we need more seating capacity or when there's an event," said Gunter Lorenz, Crystal's vice president of food and beverage. 
I think what makes the space special is its combination of tight quarters and open ambiance. I've seen other enclosed pools but none where diners are so close to the water. The pool activates the restaurant space, particularly when it is reflecting sunlight. Crystal says the pool is open for business during dining hours. I can't wait to go swimming at the restaurant. 
The Captain's Lounge
This darkened space behind the bridge has a triple window that lets passengers observe what's happening on the bridge when it is closed to guests.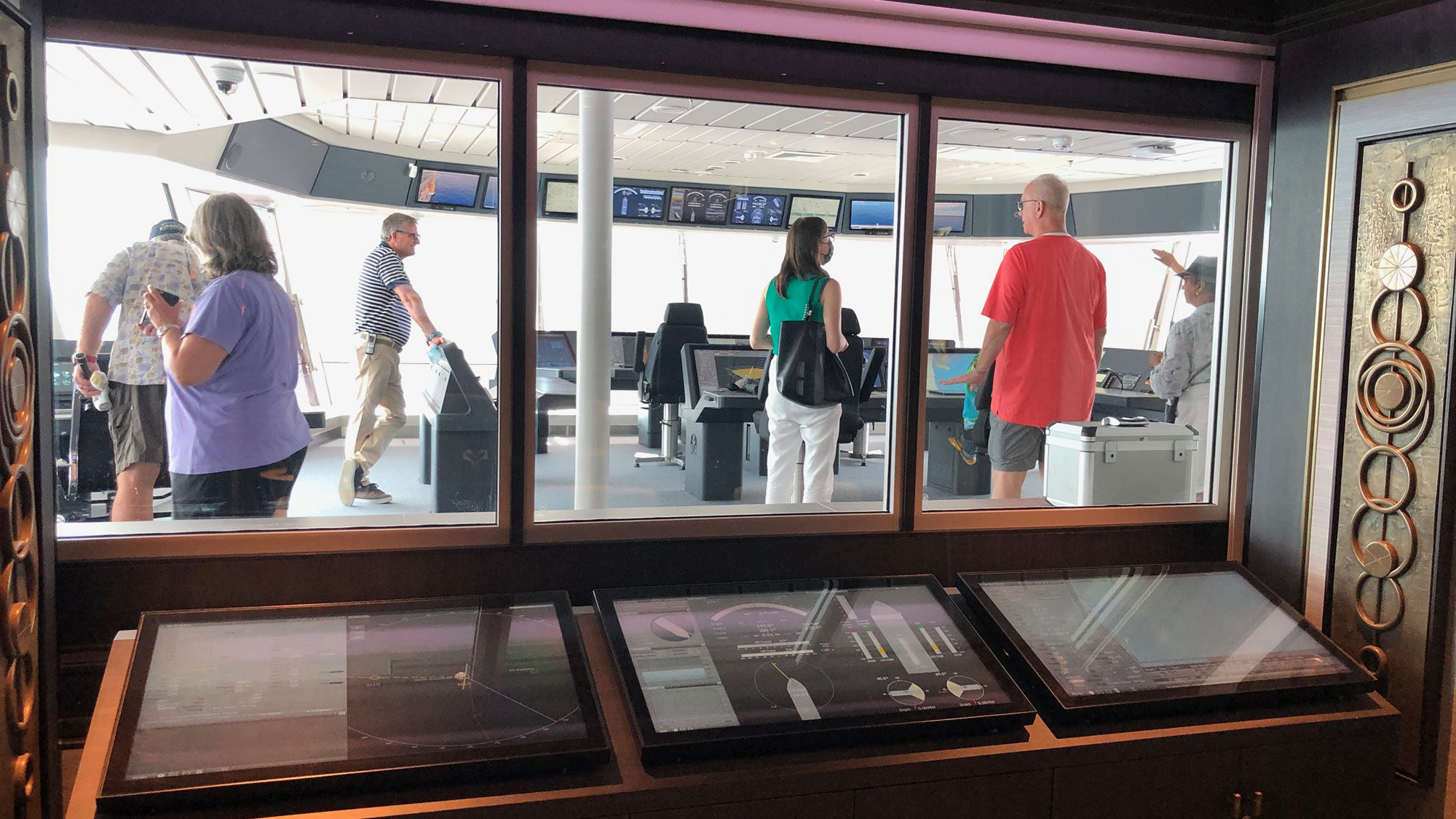 Said to be borrowed from Star Cruises, which is also owned by Crystal Cruises parent company Genting Hong Kong, the lounge also includes several screens on which passengers can follow various navigational maps, ship movements, radar images and technical marine indicators, as well as explore interactive deck plans full of wonky engineering detail. 
On first attempt, the lounge can be hard to find. It is on corridor leading to the bridge that is behind a door marked "Staff Only." It's easy to miss. As befitting a lounge, there is a wet bar and comfortable seating. 
The Marina Platform
The Crystal Endeavor has a steel panel extending across the entire length of the stern that can be lowered by hydraulic arms when the ship is stationary. Although it can serve as a swim platform, it primarily functions as an observation and relaxation area. Patio furniture and chaise lounges provide about two dozen seats.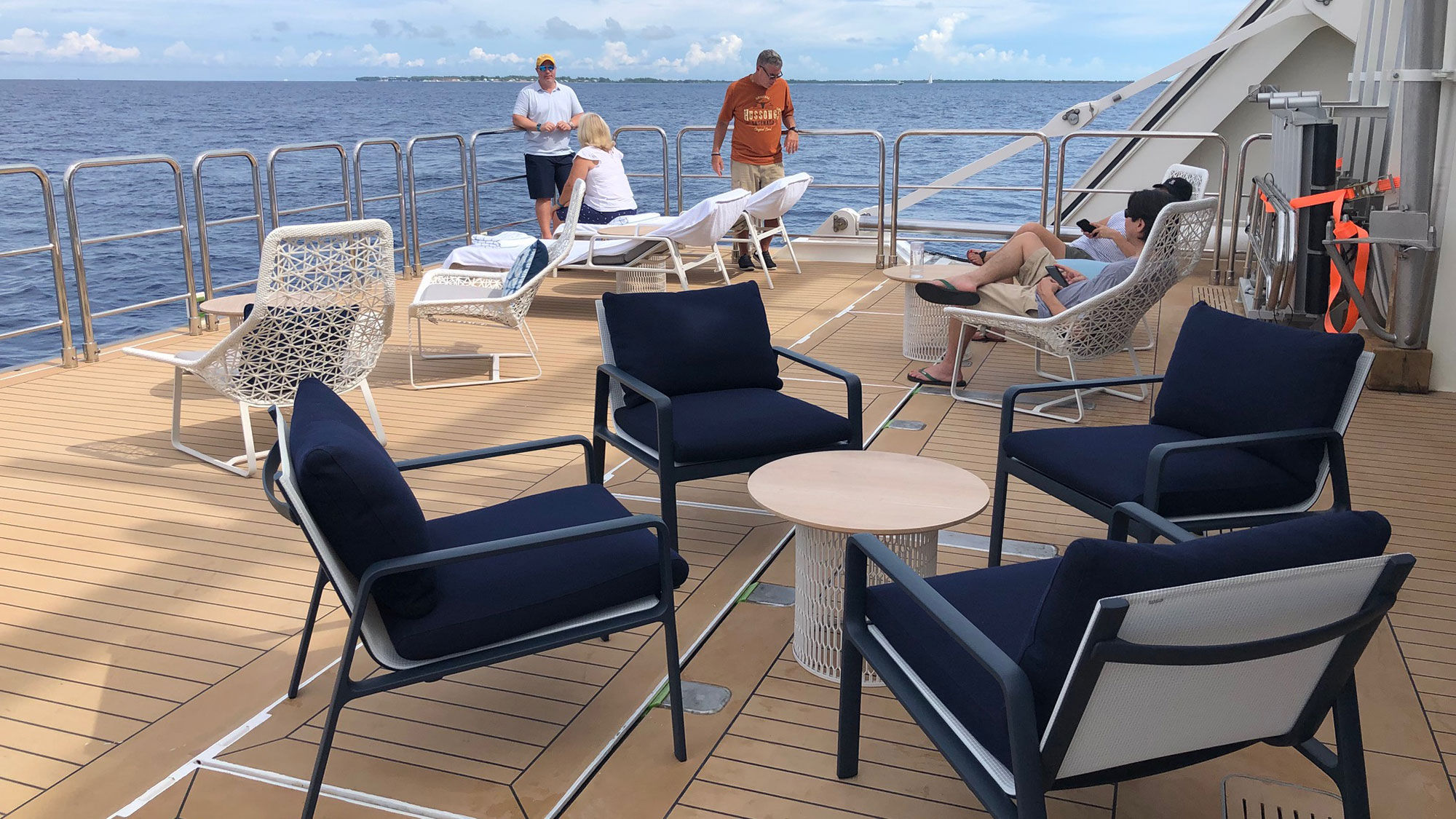 The spacious Deck 3 platform brings guests about as close as possible to the water, giving them that connection to the sea that everyone seems to have rediscovered in recent years. Removable aluminum railings provide a safety boundary between the platform and the water. 
There is a self-service beverage station. Access is through a back stairway from the Deck 5 Solarium, providing the platform with a sense of being a hidden hideaway.
Source: Read Full Article