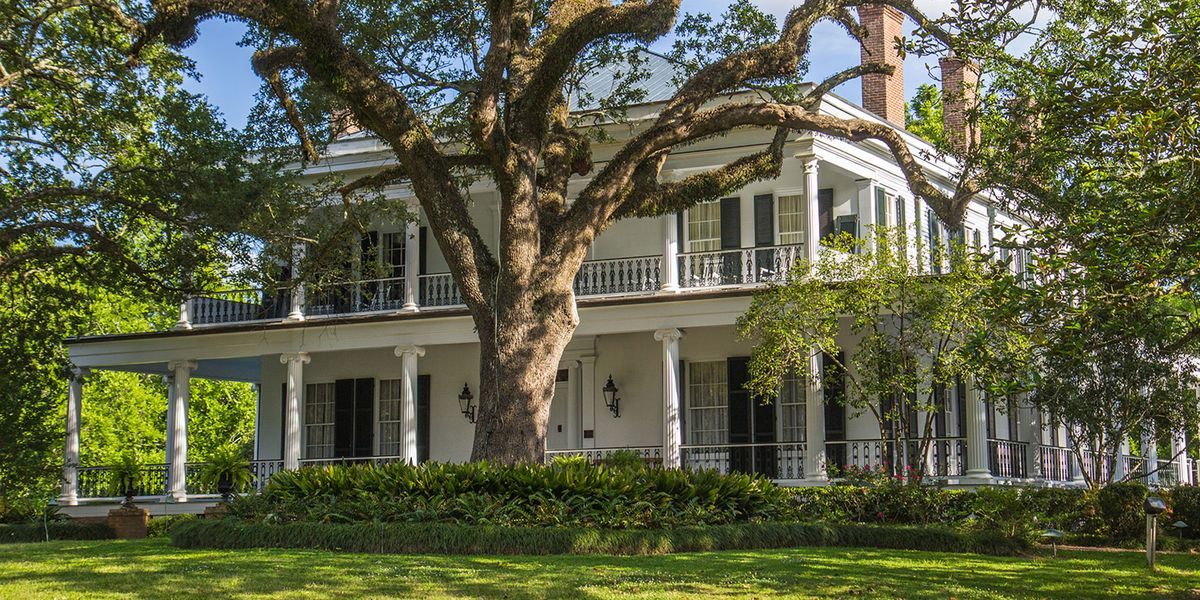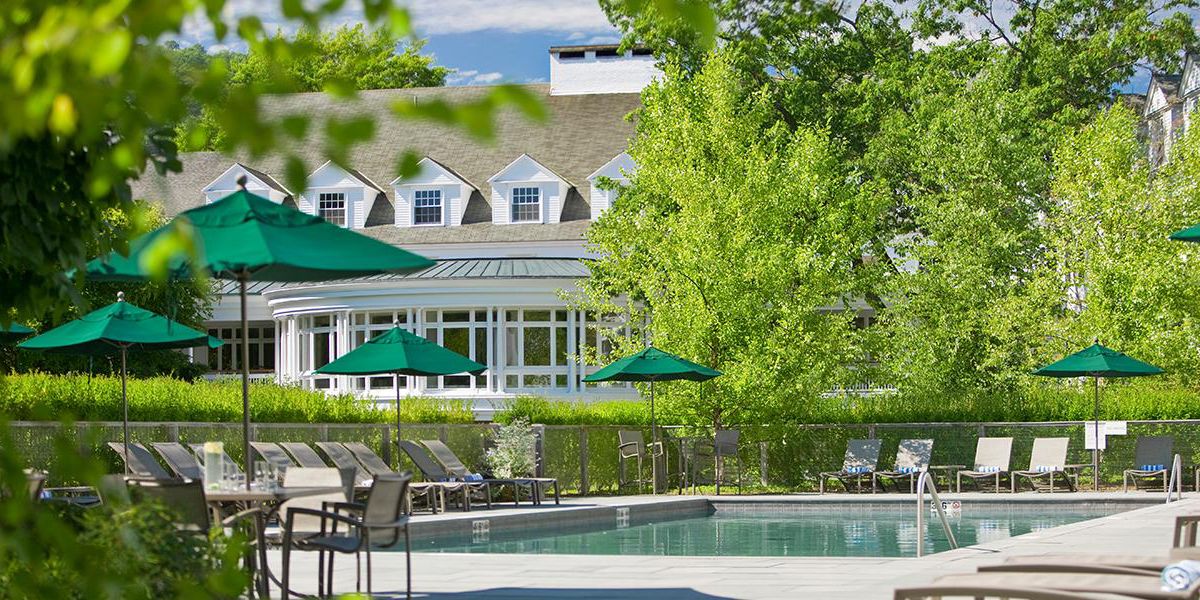 In almost every major city in America, you'll find a historic hotel, typically built in a decadent style that evokes old-world grandeur. Though some of these classic hotels have faded into history, thankfully, many of them have survived and have been lovingly restored to their former glory — only now with all the modern amenities today's guest expects. Here are the most historic hotels in every state for a truly timeless escape.
Fort Conde Inn — Alabama
Fort Conde Inn, built in 1836 on a cotton fortune, occupies Mobile's second-oldest house. After falling into disrepair, the inn was purchased in 2011 and underwent a museum-quality restoration. Guests can expect touches like gas lanterns on the veranda and an elegant breakfast spread in the dining room.
More: The Master List of the Best Inns Across the Country
Historic Anchorage Hotel — Alaska
Located in the heart of downtown Anchorage, this historic hotel is listed on the National Register of Historic Places. Dating from the 1930s, this grand hotel features 26 rooms, a breakfast room, and a charming sitting area with a fireplace.
Arizona Biltmore — Arizona
The Arizona Biltmore, which opened in 1929, was designed by Albert Chase McArthur, a disciple of Frank Lloyd Wright. The legendary hotel features low-lying cottages around manicured lawns, eight pools, two golf courses, and outdoor fire pits to take in the views of nearby Piestewa Peak.
Capital Hotel — Arkansas
This historic gem in downtown Little Rock has been a mainstay since 1870. A few of the Capital Hotel's most notable features include the cast-iron detailing on its façade and the One Eleven restaurant helmed by James Beard Award-winning chef Joël Antunes.
The US Grant — California
Dating from 1910, The US Grant was built in honor of former president Ulysses S. Grant by the president's real-estate-tycoon son, and Charles Lindbergh and FDR were known to have visited. Housed in a beautiful Beaux Arts building, the hotel is now one of San Diego's most luxurious places to stay.
The Brown Palace Hotel & Spa — Colorado
Denver's Brown Palace, which opened in 1892, has hosted numerous U.S. presidents, including Teddy Roosevelt and Dwight D. Eisenhower, who used it as his summer headquarters. Learn more about this beloved landmark's storied history by taking a free tour led by an in-house historian.
More: These Are the Top Things to Do in Denver
Inn at Middletown — Connecticut
Inn at Middletown, which began as the grand home of the president of Middletown National Bank in 1810, is now the hub of this historic town in the Connecticut River Valley. In addition to 100 rooms, the hotel features the Tavern on the Armory restaurant and an indoor heated pool. Plus, Wesleyan University is just two blocks away.
Hotel du Pont — Delaware
Built in 1913 to rival the grandeur of the finest European hotels, Wilmington's Hotel du Pont is rich with gilded hallways, intricately carved woodworks, crystal chandeliers, and mosaic tiled floors. It also has the opulent Green Room, a special occasion restaurant, featuring a 3,000-bottle wine cellar.
The Breakers — Florida
Palm Beach's Breakers, built by magnate Henry Morrison Flagler in 1896, attracted Astors and Vanderbilts. Today, the Italian Renaissance resort, one of the country's top hotels, still attracts a moneyed crowd who appreciate the private beach, manicured gardens, and gourmet restaurants.
Hamilton-Turner Inn — Georgia
Enjoy southern hospitality at Savannah's Hamilton-Turner Inn, a gorgeous mansion built in 1873 by Samuel Pugh Hamilton, a businessman who also served on the staff of a Confederate colonel during the Civil War. The inn, on Lafayette Square in the heart of the historic district, has 17 antique-filled rooms.
Royal Hawaiian — Hawaii
You don't get more iconic than the Royal Hawaiian. This pink-hued Hawaiian resort opened its doors in 1927 on Honolulu's famed Waikiki Beach and has been drawing tourists from all over the world ever since. If you can tear yourself away from the beach, join a free tour of the "pink palace."
Sun Valley Inn — Idaho
The Sun Valley Inn, dating from 1937, is one of the top places to stay within the Sun Valley Resort, which offers skiing in winter and hiking and biking in summer. The Bavaria-style inn has 105 rooms and the rustic Ram restaurant, which is known for its fondue.
Chicago Hilton — Illinois
One of the Windy City's most iconic places to stay is the Chicago Hilton, which opened in 1927 with 3,000 rooms, a bowling alley, and a skating rink. Past guests have included Charles Lindbergh and Queen Elizabeth II. Nowadays, the block-long hotel has more than 1,500 rooms and numerous bars and restaurants.
West Baden Springs Hotel — Indiana
The signature feature at the turn-of-the-century West Baden Springs Hotel in French Lick, once a retreat for the wealthy during the Roaring Twenties, is its 200-foot-wide lobby atrium — it truly is an architectural wonder. Ask for one of the rooms featuring an atrium-facing balcony.
Hotel Julien Dubuque — Iowa
The Hotel Julien, a landmark hotel in Dubuque, dates back to 1839 when it was an inn known as the Waples House. Notable guests include Mark Twain, Buffalo Bill Cody, and even gangster Al Capone, who hid out here when things got too hot in Chicago. The hotel is fresh from a head-to-toe renovation.
Hotel at Old Town — Kansas
This Wichita hotel, a handsome four-story redbrick building with white trim, is one of Kansas' most historic hotels. Built in 1906, it once served as a warehouse facility for the Keen Kutter tool company, and many antique tools are on display throughout the hotel's public spaces.
The Brown Hotel — Kentucky
The Brown Hotel, built in 1923, is a Louisville landmark. The Old World lobby is rich with chandeliers and plush couches, and the 293 rooms feature mahogany furnishings and marble baths. The Lobby Bar is one of the city's longtime favorite spots to enjoy a glass of bourbon, followed by dinner in the English Grill.
Hotel Monteleone — Louisiana
In the heart of the French Quarter is one of New Orlean's most storied hotels, the Monteleone, which has been providing rooms to weary revelers since 1886. Opened by Sicilian immigrant Antonio Monteleone, the 570-room property, home of the famous Carousel Bar, is still owned by the family today.
Black Point Inn — Maine
The Black Point Inn, dating from 1878, is a historic hotel in the tony enclave of Prouts Neck near Portland. There are 25 rooms, a wood-paneled parlor, and the Chart Room for delicious lobster rolls. It also offers access to nearby Cliff Walk, offering spectacular coastal views.
Lord Baltimore Hotel — Maryland
The Lord Baltimore has been a Charm City mainstay since 1928. Martin Luther King, Jr. and other luminaries have visited the hotel, which is located near the Inner Harbor. The hotel is noted for its crystal chandeliers, gilded columns, and murals in the Calvert Ballroom.
Fairmont Copley Plaza — Massachusetts
One of Bean Town's classic hotels is the Fairmont Copley Plaza, built in 1912 and designed by Henry Janeway Hardenbergh as a sister property to New York's Plaza hotel. The lobby still has its decadent marble and gilded accents, though the clubby Oak Bar has been transformed into the modern Oak Long Bar + Kitchen.
Grand Hotel — Michigan
The Grand Hotel has been a staple of Mackinac Island since its opening in 1887, when guests would arrive via steamer. Mark Twain lectured here and several films were shot here, including Somewhere in Time with Christopher Reeve and Jane Seymour. It's also notable for its 660-foot porch, which is a great spot to unwind.
Fitger's Inn — Minnesota
Fitger's Inn, on the shore of Lake Superior in Duluth, started life as a brewery back in 1881. Today, the 62-room modern hotel is part of the massive Fitger's complex, listed on the National Register of Historic Places, which also includes shops and restaurants. The brewery's smokestack is still visible from many parts of the city.
Brandon Hall Plantation — Mississippi
Natchez, a former trading post on the Mississippi River, is famous for its historic mansions, including 18th-century Brandon Hall Plantation, which has been transformed into an upscale inn. Take a tour of the public spaces, featuring original furnishings, and overnight in rooms elegantly outfitted with canopied beds.
Elms Hotel & Spa — Missouri
Just outside of Kansas City is the Elms, a historic Tudor-style hotel in Excelsior Springs, once famous for its healing mineral springs. The original Elms was built in 1888, and President Harry S. Truman was among its illustrious guests. Today, the hotel is fresh from a $20 million makeover, with 153 rooms and a full-service spa.
The Pollard — Montana
Western legends like Buffalo Bill Cody and Calamity Jane have reportedly hung out at The Pollard, which dates back to 1893. The hotel is located in the historic district of Red Lodge, a former coal mining frontier town at the foot of the Beartooth Mountains (60 miles south of Billings) and just minutes from Red Lodge Mountain ski resort.
Magnolia Omaha Hotel — Nebraska
In downtown Omaha near the Old Market, Magnolia Omaha Hotel was built in 1923 in the style of an Italian palazzo. Though it's been throughly updated with modern amenities, you'll still find original marble flooring, travertine walls, and Roman-style columns.
Golden Nugget Las Vegas — Nevada
Located on historic Fremont Street, the Golden Nugget, which opened in 1946, is all about old-Vegas ambiance. It attracted plenty of gangsters and Hollywood stars during its heyday, and today, it's still a fun retro place to hang, especially in the 38,000-square-foot casino.
Omni Mount Washington Resort — New Hampshire
The Omni Mount Washington Resort, built in 1902 by mining magnate Joseph Stickney, is one of New England's most impressive hotels. Located in Bretton Woods and overlooking 6,288-foot Mount Washington, the sprawling resort features several restaurants, a spa, an activity center, and a spectacular 900-foot veranda.
Congress Hall — New Jersey
Dating from 1816, Congress Hall is a historic lemon yellow-hued hotel in the Jersey Shore town of Cape May. Though one of America's oldest seaside resorts, it offers all the modern amenities guests crave, including a spa and a beach club across the street, but it still retains its old-world charm.
La Fonda on the Plaza — New Mexico
Located on Santa Fe's oldest square is La Fonda, a sprawling adobe-style building that's been a favorite of trappers, soldiers, gold seekers, and gamblers throughout the 19th century. Notable architectural details include hand-carved beams, stained glass skylights, and tin chandeliers.
The Sagamore Resort — New York
The Sagamore, a grand white clapboard hotel with a large cupola, originally opened in 1883. The current structure dates from 1930 (an original wing survives), and today the property, featuring 137 rooms and a beautiful tiered lawn overlooking Lake George, is listed on the National Register of Historic Places.
Omni Grove Park Inn — North Carolina
The Omni Grove Park Inn is a classic 1913 hotel in the bohemian city of Asheville. Designed in the Arts and Crafts style and boasting beautiful Blue Ridge Mountain views, it has hosted everyone from Henry Ford, F. Scott Fitzgerald, and, more recently, Barack and Michelle Obama.
Hotel Donaldson — North Dakota
Located in Fargo, the Hotel Donaldson was built in 1893, and though the building has been through ups and downs, it underwent a three-year renovation process in 2003, which returned it to its former glory. Now you'll find modern interiors, a trendy restaurant, and local artist exhibitions.
Renaissance Cleveland Hotel — Ohio
The Renaissance Cleveland, on Public Square, is one of the city's most iconic hotels. Built in 1918, the 15-story neoclassical building features vaulted ceilings, arched windows, and an elegant marble fountain in the lobby. Plus, its Grand Ballroom is still the largest in the city.
Skirvin Hilton — Oklahoma
Built in 1911 by oilman W.B. Skirvin, the Skirvin has long been the social hub of Oklahoma City. This block-long red brick hotel, now part of the Hilton Hotel Group, is still the place to be, whether you're having a cocktail in the Red Piano Lounge or dinner in the Park Avenue Grill.
Crater Lake Lodge — Oregon
After a day exploring Crater Lake National Park, unwinding back at Crater Lake Lodge, in operation since 1915, is a cherished tradition. Sit on a rocker on the patio overlooking the gorgeous glacial lake, or get cozy by the fireplace in the Great Hall. Though renovated in the 1990s, the lodge hasn't lost its rustic charm, and it still features no phones or televisions in the rooms.
Omni Bedford Springs — Pennsylvania
Once a popular spot to "take the waters" due to the area's mineral springs, this historic hotel in the Cumberland Valley (90 minutes from Pittsburgh) has grown from a simple inn built in 1806 to a sprawling Greek Revival-style structure with Doric columns. Plus, you can still take a mineral-rich soak in the spa.
Ocean House — Rhode Island
The Ocean House, in Watch Hill, is famous for its Victorian-style yellow façade. The original property dates back to 1868, and the recreated resort now features upscale rooms, croquet on the lawn, elegant eateries, a cabana-lined beach, and a screening room.
The Elliott House Inn — South Carolina
Housed in an 1881 coral-colored building, The Elliott House Inn is one of Charleston's most historic hotels. Design details include original hardwood floors and custom plantation shutters, and there's a shaded courtyard. Just steps away is Husk, considered to be the city's best restaurant.
Hotel Alex Johnson — South Dakota
The Hotel Alex Johnson, which opened in Rapid City in 1928 by railroad tycoon Alex C. Johnson, is a classic hotel in South Dakota. It's also said to be haunted by the Lady in White, a young bride who committed suicide by jumping out of the window in room 812, if you're into a more supernatural stay.
The Peabody — Tennessee
For a true Southern classic, there's the Peabody, dating from 1869. This beloved Memphis hotel is known for its resident ducks, which arrive twice a day at the fountain in the Grand Lobby via a red carpet to the tune of John Phillip Sousa's King Cotton March.
The Driskill — Texas
The Driskill is Austin's most classic hotel. Built by cattle baron Jesse Driskill in 1886 and visited by Lyndon Johnson, it still remains Austin's go-to spot. In addition to marble floors and a stained glass dome, the hotel has an extensive collection of art, including numerous Western paintings.
The Peery Hotel — Utah
The Peery Hotel, with its famous gray-and-white exterior and Prairie-style design, is a Salt Lake City landmark. Built in 1910 by the Peery family, the hotel catered to those working in Utah's mining industry. Today, it has 73 rooms and is in the heart of downtown's Arts District.
The Woodstock Inn & Resort — Vermont
Taking pride of place in the storybook village of Woodstock is the Woodstock Inn. Dating back to 1793, the inn began as a tavern, eventually becoming the luxe colonial-style resort of today, complete with a pampering spa, an organic garden, and the elegant The Red Rooster restaurant.
The Omni Homestead Resort — Virginia
Located in Hot Springs, Virginia, The Omni Homestead Resort, dating all the way back to 1766, was built on land that contained seven natural mineral springs (Thomas Jefferson came for a soak in 1818). Today, the Homestead is a full-service resort with everything from golf courses to zip lines, as well as a spa with thermal treatments.
Fairmont Olympic Hotel — Washington
The Fairmont Olympic has been a Seattle landmark since its opening gala in 1924, which was attended by some 2,000 people. Expect crystal chandeliers and large Palladian windows in the public spaces, including The Georgian fine dining restaurant. The more casual wood-paneled Shuckers is one of the city's oldest oyster bars.
Greenbrier — West Virginia
Southern gentility is alive and well at the venerable Greenbrier, a 6,500-acre estate in West Virginia's Allegheny Mountains that dates back to 1778. The property features 710 rooms, restaurants, numerous activities (golf, skeet shooting, bowling, biking) — even a never-used underground bunker built during the Cold War to house Congress.
The Pfister Hotel — Wisconsin
The Pfister in Milwaukee is a Victorian gem opened in 1893 by businessman Guido Pfister. The centerpiece is the grand lobby, famous for its trompe l'oeil ceiling. Atop the hotel's 23-story tower (added in 1965) is a modern cocktail lounge offering stellar Lake Michigan views.
Wort Hotel — Wyoming
This two-story hotel, a block from Jackson's Town Square, was built in 1941 by the sons of homesteader Charles Wort, and it's a hub for everyone from ski bums to tourists (and even a few cowboys). Be sure to check out the Silver Dollar Bar, whose S-shaped bar is inlaid with 2,032 uncirculated 1921 silver dollars.
The Willard InterContinental — Washington, D.C.
When it comes to historic hotels, you can't leave Washington, D.C. off the list, as our nation's capital has plenty of contenders. The Willard, built in 1818, has hosted everyone from Abraham Lincoln to the Dalai Lama, and the Round Robin Bar is still where politicos talk shop — it's just minutes from the White House.
Pin It for Later!
Source: Read Full Article